Earlier this year, I reviewed a Michael David wine called Freakshow, and I mentioned that most of the wines from this winery are outfitted with bright & eye-catching labels. "Petite Petit" is probably the winner of the Most Outgoing superlative (that or Best Dressed) in the Michael David Winery portfolio. The Burgundian-esque bottle is so thick that it barely fits into a standard wine rack while the label features two large elephants facing each other in armchairs.
Petite Petit is cleverly named after the blend of grapes that make up this wine: 85% Petite Sirah & 15% Petit Verdot. Petite Sirah wines tend to be concentrated and tannic with black fruit flavors, while Petite Verdot is often added to blends in order to add structure and Earthy notes. The resulting wine, "like elephants whose size is imposing," is well-structured and bold.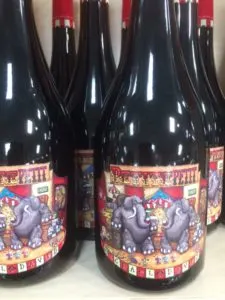 I enjoyed this wine with a friend, who said "Wow." after he tasted it. I feel that this might be the standard reaction for a wine at this price point. The juice is a deep, dark purple with a nose of ripe black fruits, blueberries, and cola. The palate features gripping tannins with a rusty, Earthy minerality that is balanced by a sweet fruit mid-palate. The wine is full-bodied with a finish of baking spices and vanilla from 16 months of aging in French Oak barrels.
The bottle that I tried was $13.89 at my local Costco. Vivino users list it at an average price of $16.99 and give it an impressive 4.0 out of 5 stars (out of 3,688 ratings!). Wine Spectator gives it a score of 87 with a price of $18 (same price if ordered directly from the winery), while Wine Enthusiast gives it 92 points and an "Editor's Choice" designation. I give it 88 points.
Purchased in Buford, GA
Costco Item #: 291093
ABV: 14.5%
CostcoWineBlog.com rating: 88 Points