Editor's Note: Obviously, these are crazy times to be shopping at Costco, and every trip means braving long lines like we've never seen before. I've made a few trips to purchase wine (and other staples) but depending on how long this situation remains we might not be able to acquire wine regularly to maintain our twice a week posting schedule on this site. So bear with us as we move to a more delayed review schedule, posting reviews when we can, and hopefully we will be back to normal, or closer to normal, sooner rather than later.
I went ahead and pulled the trigger on three bottles of this wine, not having any back knowledge about the wine.
First off, we're looking at a DOCG Chianti Classico for only $8.99. Odds are pretty good that this will be a decent wine for the money. Plus I'm only out $27 if it stinks, and maybe I can sneak it into a dinner party sometime. Since we're all hunkered down right now too, finding a nice $9 bottle to buy in quantity would be a big win.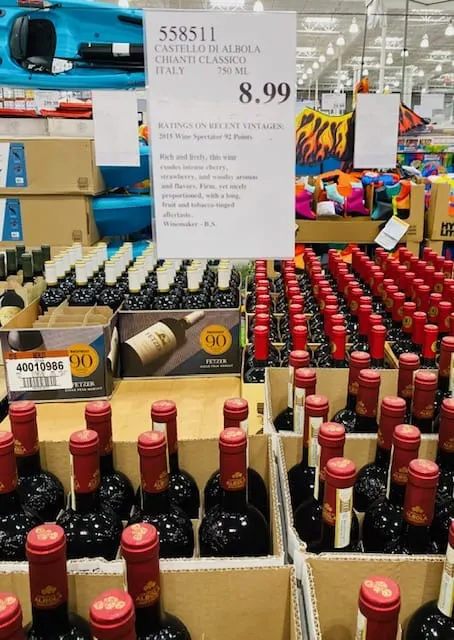 Wine Spectator went 92 points, and Decanter went a whopping 95 points (but the latter is always a bit high). Ok, I'm feeling pretty good. The Kirkland Chianti that was just re-released is right down the row from this bottle, and I could have made a safe switch, but didn't. I wanted to try this one too much.
It's also a 2015 vintage, which is a huge year for Italian wine and I hoped that it would add the early touches of a little age to the wine. And that became apparent on the pour.
The wine is a nice medium ruby red with a hint of age starting to appear around the edges, slightly see through in the glass. I knew right on the first sip that this was exactly what I was hoping for – a high quality Chianti at a great price.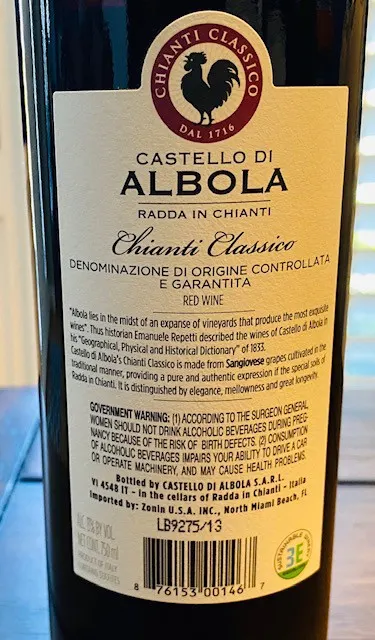 Nose of dried red fruit, perfume and baking spices; in the mouth, medium in body, loads of spicy black cherry, some pepper, dusty finish, nice acidity.
I'm a big fan of this wine at this price. Online it appears to go for closer to $15, so I love Costco's price. If you like classic Italian reds, this is a no brainer and I'd suggest stocking up. I'm glad I have two more but have a feeling these might move through pretty quickly. A good pick to stock up on for the "coronovirus" lock down.
CostcoWineBlog.com Rating: 88 points
Costco item number: 558511
Purchased at Costco in: Atlanta, GA
Alc. 13%