This is always an exciting one to see in the clubs, and this year it features a bold label change that I think is nice. In previous years, the label has been beige with red print and an illustration of the Chianti countryside.
Now, the label is royal blue with a gold foil print and crest featuring an animal along with grape vines. Further investigation into what this animal could be was unsuccessful.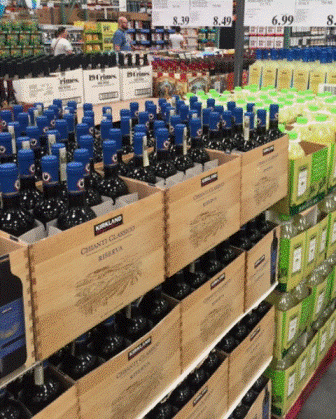 The back label features the same description as last year but "100% Sangiovese" has been omitted. This does not necessarily mean the wine isn't 100% Sangiovese, but it must comprise at least 80% of the principle grape, with small amounts of other grapes like Canaiolo or Merlot making up the remainder. Villa Cafaggio Estate is once again responsible for this juice, which has aged for at least 24 months.
The wine is clean and simple. It benefits from a 30 minute decant, which accentuates the sour cherry character of the wine. I got a lot of earthy, wet forest floor on the nose as well as mushrooms and cherry.
The palate is balanced and features red currants and vanilla. The alcohol content this year is slightly lower than the previous two vintages,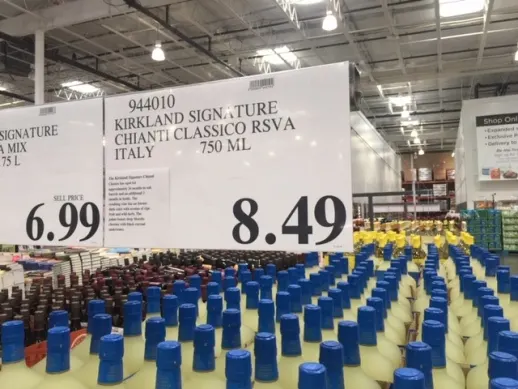 I would absolutely open this wine with pizza or a spaghetti-and-meatball dinner. Mushroom risotto with rosemary would make an ideal pairing, as well as grilled chicken and flank steak.
Costco has an excellent marinated flank steak that I like to grill and serve rice and Kirkland signature Caesar salad. This wine would be a fine accompaniment to that.
This wine moves fairly quickly in the Costcos that I frequent, so I urge you to grab a bottle today so that you have time to decide if you want to come back for a case.
The price is almost too-good-to-be-true for a Chianti Classico Riserva, making this yet another good value Costco product.
CostcoWineBlog.com Rating: 88 Points
Alcohol: 13%
Costco Item #: 944010
Purchased in Alpharetta, GA