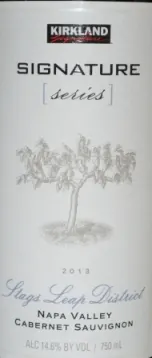 I didn't hesitate for long dropping this one in my cart. I'm a big fan of Stags Leap wines and you rarely see a Stags Cabernet for the price I found this bottle at ($19.99). And the wine was exactly what I hoped it would be – a big, rich, nicely structured red. It has that signature Stags Leap flavor that only wines from this part of Napa, with its dense volcanic soil, seem to have.
The nose on this wine is really vibrant, hitting your nose two to three inches away on your approach to the glass; floral aromas with a hint of smoke. Flavors of dark fruit: blackberry, dark chocolate and a touch of black licorice/anise. Dusty and dry on the finish, just begging to have been preceeded by a little red meat.
This is a solid buy in Napa Cabernet from a high demand district that is rarely priced this low. I'm going to put this bottle on the Top Picks list. If you know Stags wines, this is a no brainer. If not, here's one to look for. And note: at my Costco in the Atlanta area, I almost walked by this bottle. There were a handful of these bottles sharing a wooden box with another wine. So I almost overlooked it. It made me wonder how many of these bottles are floating around out there. Hopefully you can find it, but I would buy it if you see it.
CostcoWineBlog.com Rating: 90 Points
Costco item number: 505081
Purchased at Costco in: Atlanta, GA (Cumberland)
Also note: As I mentioned I love Stag's Leap wines, particularly the reds. Some of my favorite producers in the area are Cliff Lede (also one of the best to visit, a rock 'n roll winery), Stags Leap Winery (especially their SLV Cabernet from a good year), Pine Ridge, Reynolds (also a great one to visit), and lastly Baldacci, which is a small winery you have to visit. Their high end Brenda's Vineyard Cabernet, again on a good year, is among my current favorite Napa wines.