Love seeing the new 2013 vintage of this one arrive at Costco and I've had quite a few readers write to us asking if it was around. Yes, it is, and the remarkably low price of $6.99 is carried over once again.
For $6.99 there are few bottles of wine that are as drinkable as this one. Going in this year, I had high hopes. The prior vintages have impressed us, and this one did too.
Earthy on the nose, signature Rioja smell; like we've noted before, you will definitely want to give this wine a little air before jumping in. Even just 20-30 minutes, and it begins to open up more.
Mostly red fruit flavor, with some tobacco and spice; a really long finish for an inexpensive wine.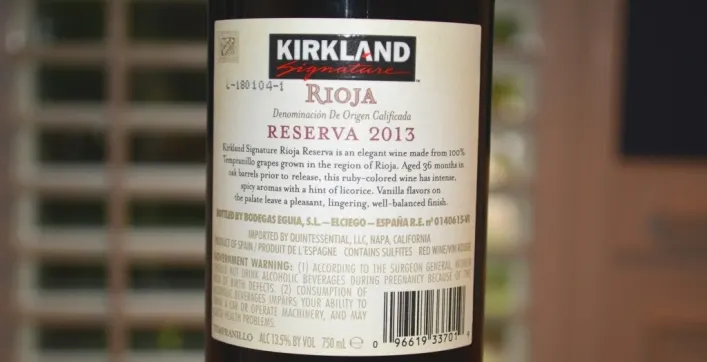 Absolutely ridiculous at this price. Spanish wine fans will love this bottle, and for anyone else who likes medium to full bodied reds that are packed with flavor, this is one to try.
Rioja is made from the Tempranillo grape, which in just about any of its primary forms (Toro, Ribera, Rioja) delivers good quality to price. I'm going to bump up the rating to 88, from last year's 87 as this wine really impressed me.
CostcoWineBlog.com Rating: 88 points (a CostcoWineBlog Recommended Wine)
Costco item number: 917056
Purchased at Costco in: Atlanta, GA
Alc. 13.5%
[There are a lot of great Kirkland buys in stores right now; here's a list of all of our recently reviewed Kirkland wines. And don't forget to jump over to the forums to see what others are saying about this wine and other Costco finds]