I enjoyed the current 2016 vintage of this Kirkland classic perhaps more than in year's past. It is again an absolute steal to be able to grab a Pinot from Sonoma's famed Russian River Valley for only $12.99. The price continues to be the main selling point here for a decent bottle of Pinot but I thought the quality this year was a bit of a step up.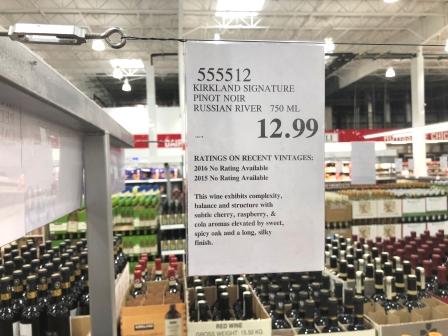 In my review of the 2015 vintage, I called out it's one dimension, and this year's wine does remain rather simple as well, albeit a little more interesting. Again, this is not the killer Pinot you want to whip out at a dinner party to impress your guests and pair with your amazing meal. Rather, for an every day Tuesday wine to sip on with some food and enjoy a glass while cooking, it's not a bad pick at all.
Ripe berry fruit and subtle spice on the nose; the wine feels great in the mouth, soft with a little tannic bite; fruit is predominately red, lots of cherry, raspberry and cola notes; a little oak and a touch of sweetness in the finish. Overall, a fair buy from Russian River, especially at the price.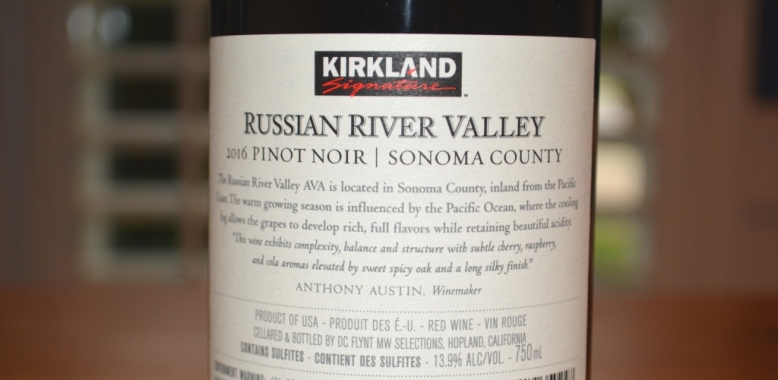 The winemaker is listed as Anthony Austin on the back of the label, and with a quick Google search you'll learn he is the veteran winemaker at Sonoma Coast Vineyards. The lowest end Pinot they offer is around $40 and it climbs up from there, so you can roughly infer that we are getting the influence of an experienced producer on a low priced wine.
I'm a fan of this one. Let us know what you think in our new Costco wine forums.
CostcoWineBlog.com Rating: 87 points
Costco item number: 555512
Purchased at Costco in: Atlanta, GA
Alc. 13.9%