In my opinion, Chianti Classico is one of the top places to go in the wine world now for consistent high quality wines at great prices. This wine was $14.99 at my Costco, and it drinks like it cost twice as much.
A quick FYI – Chianti Classico is not just a classic version of a Chianti. It's actually it's own 100 square mile sub region and is known for vineyards that produce some of the best wine in the area. So if you're buying Italian wine and you see Chianti Classico on the label, you know it came from this smaller region that many in the wine world, myself included, find to deliver a huge bang for the buck.
We wrote a whole book that covers this and many more tips for buying Italian wine, available here if you're interested.
If you're already a fan of Chianti Classico, then you know all of that already, so what do we have in this bottle?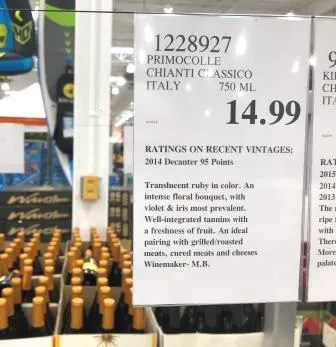 I found this to be a great expression of Sangiovese; medium plus body, ripe berry fruit and pepper on the nose; flavors are signature Chianti; rustic and traditional in style, the wine has cherry and strawberry flavor, with earthy undertones, and some tart and tobacco towards the dry finish.
Exactly the wine you want with meatballs, or any other classic Italian cuisine. We enjoyed it with some NY strips from the Green Egg. Any red meat will do. A great wine for $15, and one that Decanter gave a whopping 95 points.
CostcoWineBlog.com Rating: 89 points
Costco item number: 1228927
Purchased at Costco in: Atlanta, GA
Alc. 13.5%