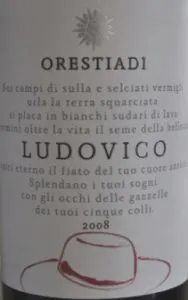 I was really excited to find this bottle at Costco. What an interesting wine and perfect for me as I continue to work on my book about Italian wine. Price at Costco was $19.99.
This is a Sicilian wine with the IGT designation. The wine is comprised of 90% Nero d'Avola (the red grape of Sicily) and 10% Cabernet Sauvignon. I have enjoyed many bottles of Nero d'Avola and I think they are one of the best buys for Italian wines around $15-$20 but I had never had a blend like this.Nero d'Avola typically exudes a nice herbal aroma and this wine showed much of that. Lots of berry fruit on the nose, white pepper, spice and a little floral. On the palate this wine is full bodied with a soft tannic structure and a good bit of acidity. More ripe berry flavors, a lot going on, definitely tobacco and some black licorice; finish is a spicy, dry and sticky.
This is an excellent wine, and a good buy at Costco. Pair this with a nice Italian dish with spice, red sauce and/or red meat. I enjoyed it with basic spaghetti (cooking for the kids) and it was superb.
CostcoWineBlog.com Rating: 89 Points
Purchased at Costco in: Atlanta, GA
Costco item number: 825665