Here's another interesting box that came our way, and it's a bit different for this site. This is a Flavored Whisky sampler containing 12 200ml bottles.
We can't buy this (or hard liquor) at most Costco stores in Georgia (only two, Dunwoody and Alpharetta), but received it to sample from the distributor. We are also not huge whisky fans, so we had to call in an expert (friend named Cam) to help us with the evaluation.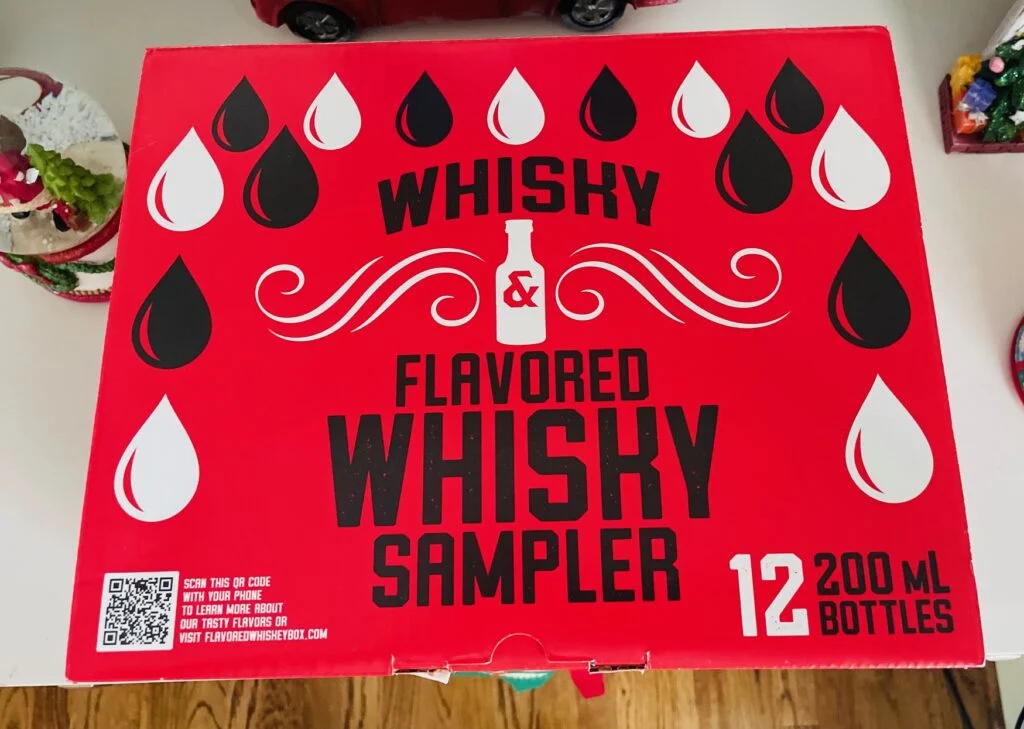 First thing you notice with many of these boxes is the design, and this one is rather unique, pretty cool we thought. The sampler covers a wide range of flavors including caramel, peanut butter, cinnamon, coffee, blackberry, banana and root beer to name a few.
There's a website with a ton more detail on each bottle. Costco's price is $69.99, which comes out to $5.83 per 200 ml bottle.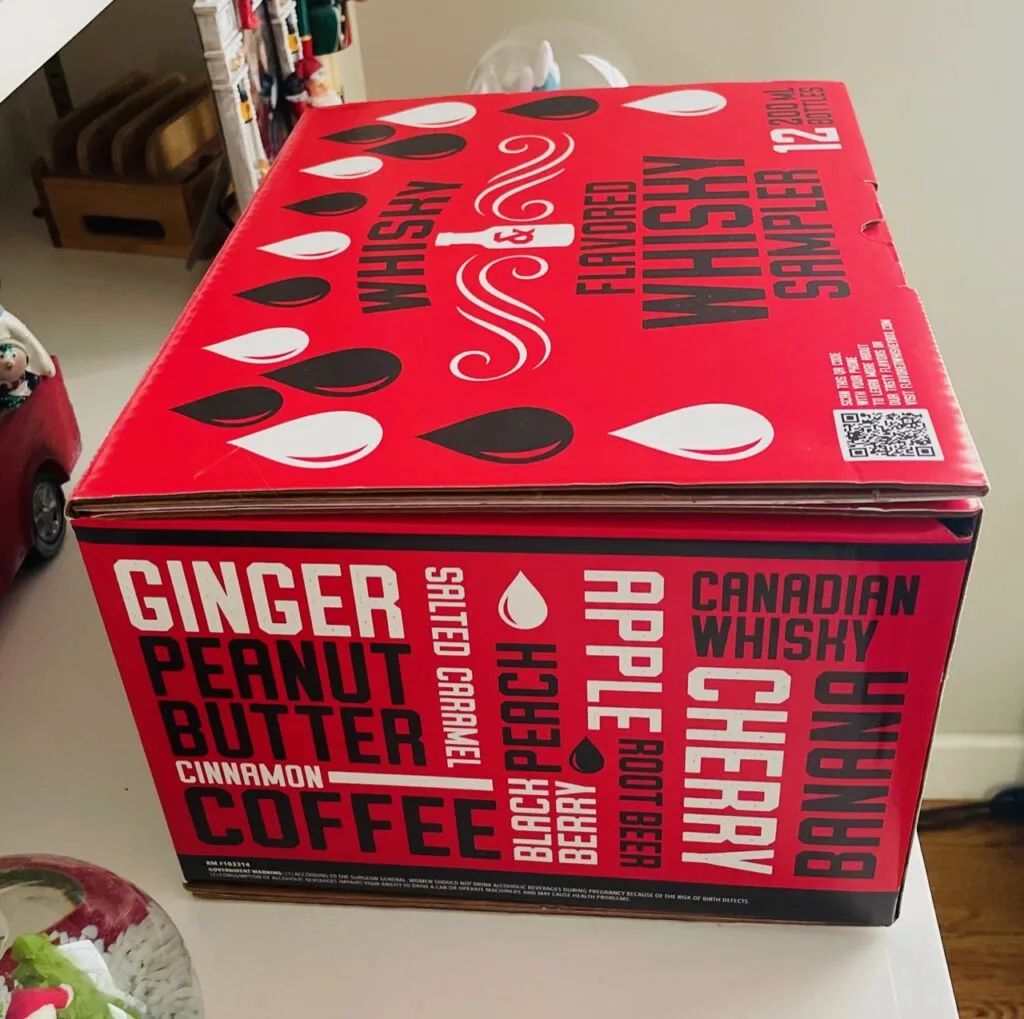 As we always do with these boxes, we tasted and reviewed a few random bottles. Overall, they were pretty good (kind of surprised us actually).
Double Punch (coffee flavor)
At first opening of the bottle, there were aromas of burnt toast, toffee and raw cane sugar. In the glass it looks like a well formulated whiskey and cola, and the first taste is exceptionally sweet and warming.
The mixture is a good composition of whiskey not overpowered by its ground companion. With ice, it takes the edge off completely, without much flavor impact.
Down We Go (peach flavored)
On the nose it smells like the kind of candy someone's grandma keeps in her purse. The peach flavor doesn't compliment the whisky, but rather the other way around in a good way. It takes the soft curves of the peach and sharpens the edges.
There is almost no bite. The warmth is almost all in the background. This is a truly great sipping drink and would easily add a great flavor to any mixed drink.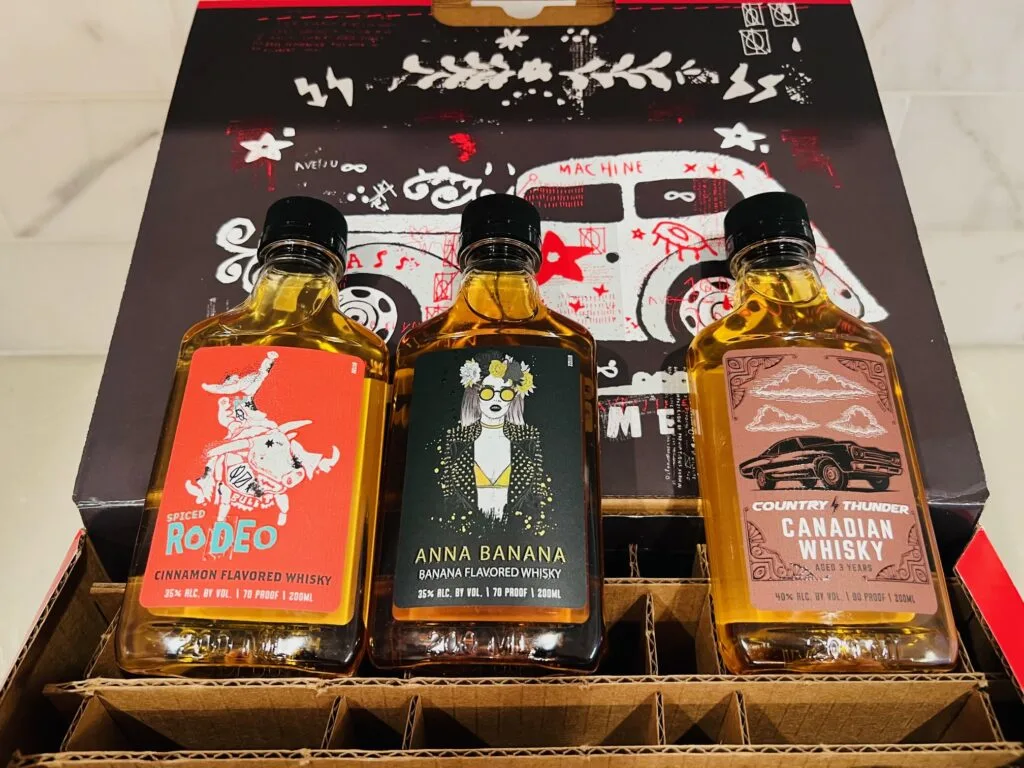 Mr Roboto (root beer flavor)
Pours like silk and looks as advertised, just like a root beer. The smell is enticing, just what you'd expect from root beer with something lurking in the background. Warm and smooth taste. The sugar from the root beer coats the mouth as the whisky warmth travels down the chest.
There are distinct flavors of licorice and oak. It's hard to tell if the licorice comes from the root beer, the whisky or both. All I can tell you is that I don't care because the balance is delightful. This one's definitely a winner.
Setting The Bar (apple flavored)
The apple flavor covers almost all the notes except the distinct smell of wood. Apple can overpower any smell and this isn't necessarily a bad thing. This apple is sweet and warm. The taste is extremely well balanced, and the sugar dances easily with the the spice.
I would even say it brings some of the spice to the surface. This is easily a drink you can carry with you wherever you want. It's whisky warmth wouldn't be too overpowering from a comfortable seat with an ocean view and not underwhelming in a winter cabin.
I know that the thought of "Apple" might bring to mind something as vapid as an apple martini, but I can assure you this bar is set higher.
Wild Party (salted caramel)
Smells delicious! Like a decadent candied pretzel. Tastes like warm candy with a welcome bite. From the first taste I've had a smile on my face. All of the flavor's balance so well.
The sweet caramel brings out the oak well and the salt is subtle enough to seemingly fill in any cracks in the overall taste. I'm reminded of the holidays. This sweet snack would be great on a cold night next to a warm fire.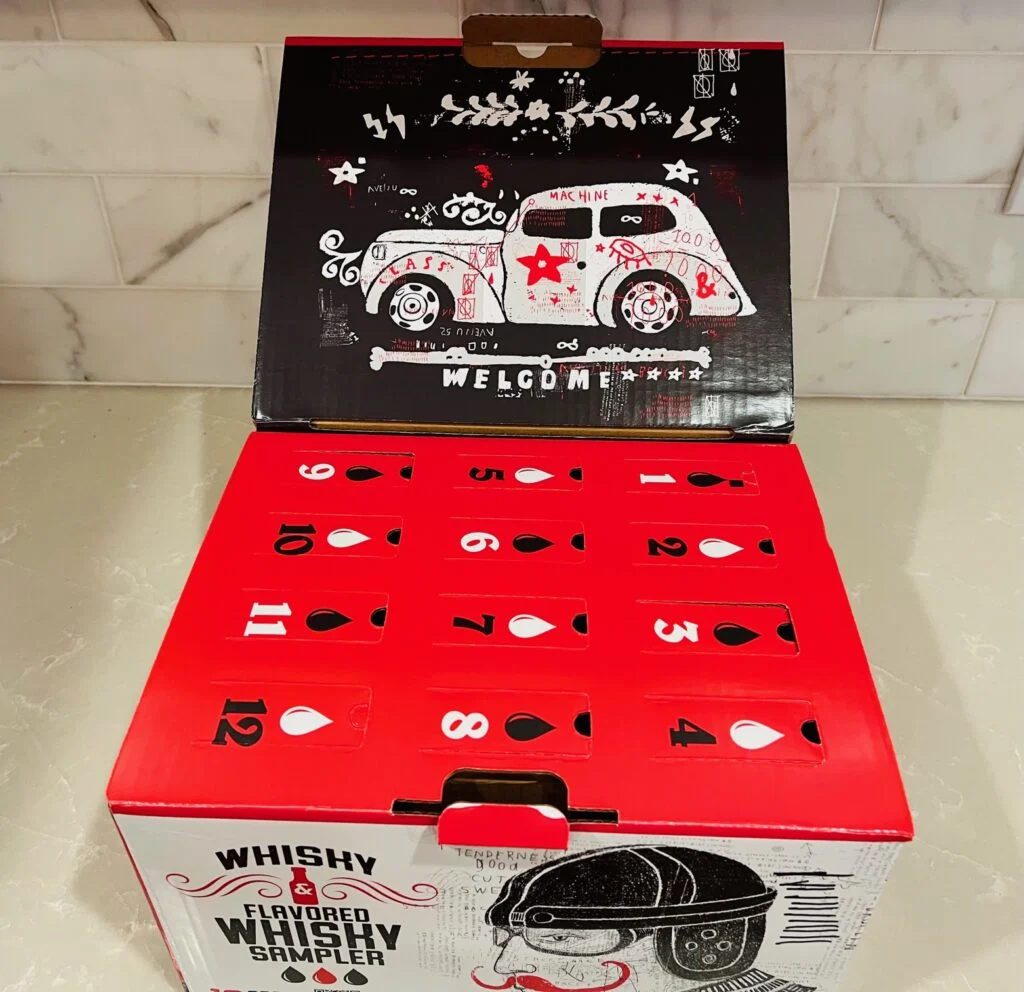 Thanks Cam for the notes.
Overall, an interesting addition to the Costco booze aisles, if you're lucky enough to live in a state that can stock them.
If you taste any of the other ones, please share your thoughts in the comments below. Cheers.
This item was received as a sample for the purpose of writing this review. All reviews are written at the discretion of the individual reviewer. Opinions of the reviewer do not necessarily reflect those of CostcoWineBlog.com as a whole, and reviewers are not paid for their reviews by wineries or their affiliated distributors. We at CostcoWineBlog.com believe that wine preferences and opinions are often subjective and highly individualistic. Our scores are based on our individual perception of a wine and how well it reflects the area in which the grapes are grown, the expression of the grapes, and also the quality of the finished product. We remind readers that we are 100% independent of Costco Wholesale Corporation, and are simply of a group of Costco wine fans looking to try new wines and share our favorites with this community.