I love the shape of this bottle. It's short and fat and looks like the top-half of a magnum. Perhaps not the best fit to store on a wine rack, but this type of wine can be stored upright for years without compromise. I don't personally recommend storing this wine for years, however.
I usually head straight to the large display of purple-labeled Kirkland Prosecco for my everyday sparkling wine needs. I rarely drink Prosecco by itself because I love mimosas. For this reason, I don't much care for the subtle nuances of these wines since I'm muting them with orange juice. That being said, I am glad that I picked up this wine because I thoroughly enjoyed it on its own.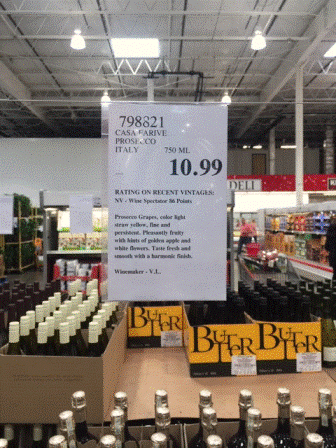 The mark of a good Prosecco is one that is well-balanced in sweetness and acidity with a finish that is crisp and clean. This wine is "Extra Dry," which is deceivingly not the most dry category of sparkling wine. Prosecco is made from the Glera grape, high in acidity, and needs a bit of residual sugar to keep everything balanced. If you want a bone-dry Prosecco, however, look for "Brut" on the label.
This wine is a step up from your everyday mimosa Prosecco. The Valdobbiadene province is touted for producing more concentrated wines than those simply labeled "Prosecco DOCG," which can use grapes from any of a number of areas within Veneto and Friuli-Venezia Giulia.
I got a lot of crisp green apple on the nose and palate with notes of white peach and fresh flowers. This wine is perfect for summer and would pair well with a variety of appetizers. In Italy, Prosecco is often consumed as an aperitivo (prior to the meal) with finger foods. The wine is often mixed with Aperol or Campari in order to make a spritz.
If you've never tried one of these cocktails, I recommend doing so this summer. You want to use about an ounce and half of either of the aforementioned bitter liquors and pour it over ice. Then you simply top with 3-4 oz. of Prosecco and garnish with an orange slice.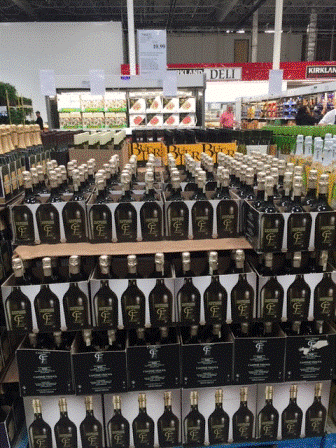 I will definitely pick up another bottle of this wine when I see it again. The price was more than fair at $10.99 per bottle, and I much prefer this to the next competing Prosecco mega-brand at the same price.
CostcoWineBlog.com Rating: 91 Points (a CostcoWineBlog Top Pick)
Alcohol: 11%
Purchased in Alpharetta GA
Costco Item Number: 798821