I thought this would be a fun bottle to try. I love both bubblies and wines from France's Alsace region, which is located right on the border with Germany. To add a feather in the cap, this wine was also #71 on Wine Enthusiast's Top 100 wines of 2018. They rated it 91 points.
Costco is selling this wine for $19.99, which is fair as retail is $25 but I found it online for $17-18 so it would be nice to see it land at Costco for around $15. The big question here for fans of bubblies like this is how does this wine compare to the Kirkland Signature Champagne which is the exact same price at Costco (and a favorite of ours)?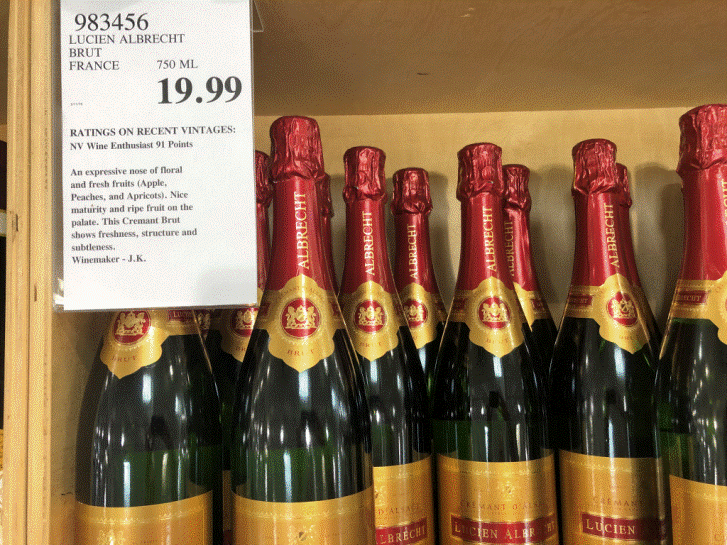 Let's get into this wine first. The Lucien Albrecht Cremant d'Alsace is a Blanc de Blancs (made entirely of white grapes) and in this case, it's 100% Pinot Blanc which is common for wines from Alsace.
It's straw yellow on the pour with a little stone fruit on the nose; citrusy, fresh and crisp in the mouth, I picked flavors of green apple, lemon and orange peel. There's a little cream and nutty almond in the finish. Nice effervescence.
Be sure to drink it cold, but not too cold. Pulling it right out of the fridge is a little too cold and it masks some of the flavor. After about 15 minutes at room temp, the flavors really started to come through. I think an ideal temp for bubbly is around 45-50 degrees F.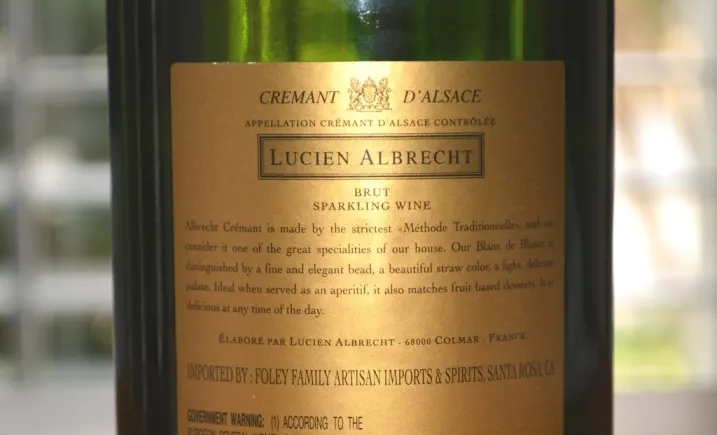 Compared to the Kirkland Champagne, this wine is a tad sweeter; both my tasting partner and I made the same comment. This bottle isn't overly sweet, it's just not as dry as the Champagne; I really did enjoy both wines, and am going to score this one almost the same as the KS Champagne that I awarded 90 points.
CostcoWineBlog.com Rating: 89 points
Costco item number: 983456
Purchased at Costco in: Atlanta, GA
Alc. 12.5%