There is a fun story behind this wine, that is documented on the label image below. Essentially, this is an every day table wine produced by Caymus' owner and winemaker Chuck Wagner.
We weren't sure exactly what to expect here but could this turn out to be a "baby Caymus" for a fraction of the price? We were ready to find out.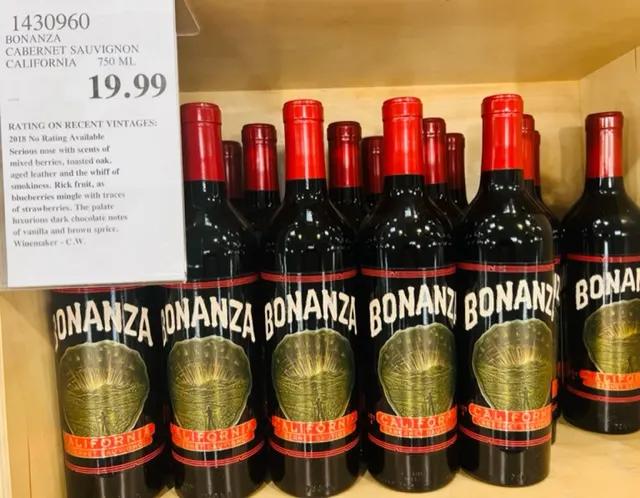 This wine is a non-vintage and from "California," which gives some flexibility to the grapes that are used and where they are sourced. Costco's price was $19.99, which is about what you will find this bottle for from other outlets, so there's not a big Costco discount by any means.
In the glass, the wine is a medium ruby color, youthful nose; flavors of mostly dark fruit, black cherry, blackberry, plum with some vanilla towards the finish. Pretty good all around. A youthful California Cabernet.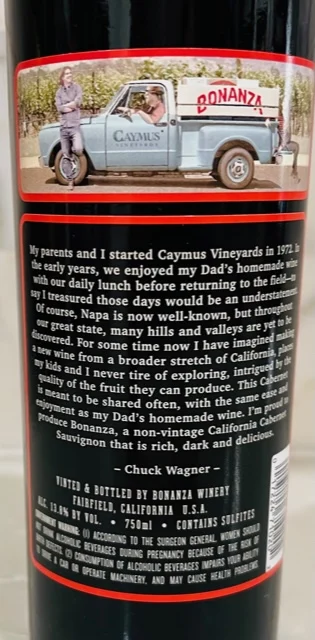 For the money at Costco, I'd still opt for the Kirkland Oakville Cab, which is also $20 and just consistently delivers the goods, especially the latest 2019 vintage in stores now.
But I can see how this Bonanza bottle could be some people's jam. And the producers don't oversell it. It's an everyday wine. And a pretty good one at that.
CostcoWineBlog.com Rating: 87 points
Costco item number: 1430960
Purchased at Costco in: Atlanta, GA (Kennesaw)
Alc. 13.8%