Here's a fun set of wines that you don't see every day packaged up in a nice suitcase with detailed notes on every wine for only $49.99 at Costco right now.
I'm told this set is primarily in California Costco stores but keep an eye out for it elsewhere along with other California region specific sets that might be coming down the pipe in the Boutique wine collection.
It is also nice that these wines are in 375ml bottles, making it really easy to taste multiple wines in one sitting, and the set makes a great gift to bring to a dinner party. I found each wine to be representative of the varietal and a well executed expression from the often overlooked Santa Barbara terroir.
The pack includes six 375ml bottles which I've listed below with my quick tasting notes, along with a detailed 10-page booklet with a map of the area and a tasting placemat that can be used for display if you want to set up a "tasting room" environment.
Of the six wines, which we thought were all very good, the '16 Stolpman 'Ballard Canyon' Syrah was our favorite.
Here are all the wines included in the pack along with our thoughts on each one. Note many of these are very young wines, and they changed significantly and opened up as they got some air in the decanter.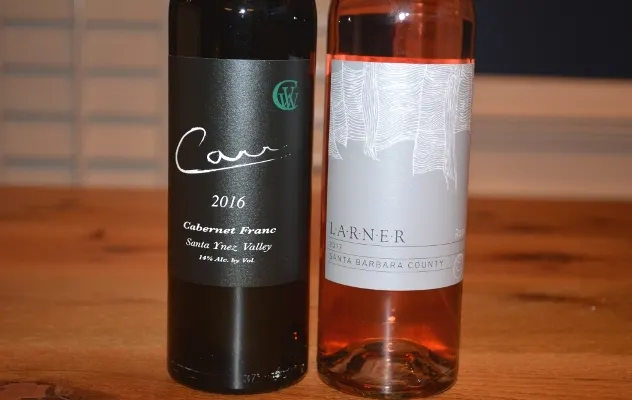 2016 Carr Cabernet Franc
A lovely Cab Franc; bell pepper all over the nose and in the mouth; flavors of dark fruit and a touch of cranberry with a dusty, mouth-coating finish. Many different food pairing recommendations are listed in the guide, and we paired it with herb rubbed chicken from the Green Egg and it was fantastic.
2017 Larner Grenache Rose
We love drinking rose all year long, so even though it's getting colder outside, the rose bottles are still known to make an appearance. This is a grenache based rose so it's fresh and juicy, a little Rhone influence on the style. Super easy drinking and a nice one to pull out before or after a meal with friends.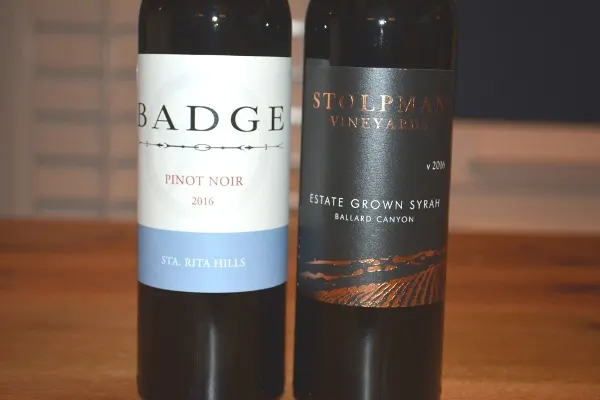 2016 D'Alfonso-Curran 'Badge' Pinot Noir
This is perhaps our second favorite of the pack. Santa Rita Hills is known for their Pinot so I was excited to see tis one included in the set. This wine is young and fresh, light in color but big in the mouth with body and rich flavor; definitely a touch of Dr. Pepper/cola, spicy on the finish, this is a perfect food wine for almost any occasion.
2016 Stolpman 'Ballard Canyon' Syrah
We really enjoyed this wine. It's spicy on the nose with aromas of peppercorn; dark fruit in the mouth, more spice, it's young and fresh like many of the wines in the pack; dry finish. I'd love to try this wine with some grilled BBQ pork ribs in the summertime.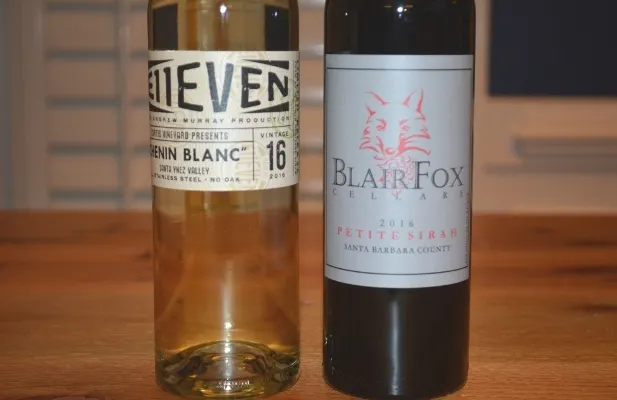 2016 Andrew Murray 'This is E11even' Chenin Blanc
Light in color in the glass, but a good dose of flavor, this is a fun wine and a nice change of pace among the standard list of whites. This wine has bright acidity with lemon/lime, green apple, and citrus flavors with good body and crispness.
2016 Blair Fox Petite Sirah
Nice mouthfeel here with juicy dark fruit and a dry finish; notes of dark chocolate and white pepper towards the finish; we tasted with spicy meatballs which worked well.
And that's it. Six wines that are a bit outside the every day norm, which is always something I'm interested in exploring. I'm not going to rate each wine in the pack individually, but rather just give them a blanket thumbs up in our tasting.
Costco item number: 10002625
These wines were received as a sample for the purpose of writing this review. All reviews are written at the discretion of the individual reviewer. Opinions of the reviewer do not necessarily reflect those of CostcoWineBlog.com as a whole, and reviewers are not paid for their reviews by wineries or their affiliated distributors. We at CostcoWineBlog.com believe that wine preferences and opinions are often subjective and highly individualistic. Our scores are based on our individual perception of a wine and how well it reflects the area in which the grapes are grown, the expression of the grapes, and also the quality of the finished product. We remind readers that we are 100% independent of Costco Wholesale Corporation, and are simply of a group of Costco wine fans looking to try new wines and share our favorites with this community.