This is the first time we've seen a bottle from Tablas Creek grace the Costco wine shelves, and it's a very welcome addition.
As you may know, Tablas Creek is a Paso Robles based winery co-founded by the Perrin family of Rhone/Beaucastel fame. Perrin wines, which we are big fans of, can run the gamut from inexpensive basic Rhone bottles all the way up to the Hommage a Jacques Perrin that can run $600+. Check out the ratings here on that wine.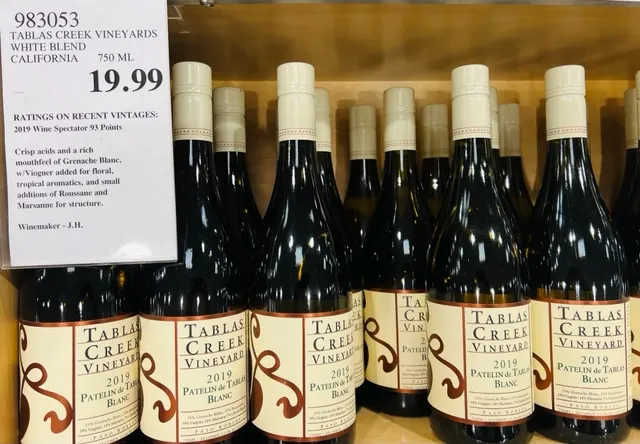 Back to this one, Tablas Creek focuses on making wines in Paso Robles using Rhone varietals, both red and white. The makeup for this bottle is 35% Grenache Blanc, 25% Roussanne,19% Viognier, 14% Marsanne and 7% Clairette Blanche. Definitely a little something different, and it turned out great.
It's also worth calling out the price Costco brought this in at. This same wine is $27 at Total Wine, and about that same mid-$20 range at most other outlets where we've seen it. Costco's price is good at$19.99. And note the Wine Spectator rating of 93 points. Let's get into it.
The wine pours a medium gold in the glass with citrus fruit and fresh flowers on the nose. It has nice acidity, medium in body; flavors of tangerine, lemon and grapefruit; very pleasant throughout, a very nice wine.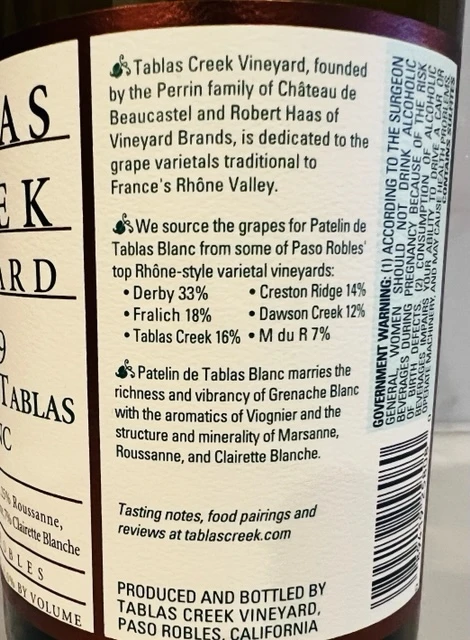 If you're a white wine fan looking for something different, it doesn't get much more unique than this one. If you're a Rhone fan, then it's even more of an easy choice.
CostcoWineBlog.com Rating: 89 points
Costco item number: 983053
Purchased at Costco in: Atlanta, GA (Kennesaw)
Alc. 13%