Here's an interesting wine that came our way, a Prosecco Rosé, which is something I've never tasted before and after poking around online, I learned this is a pretty recent addition to the wine world.
As many of you know, Prosecco is made from the Glera grape, and what they did with the Prosecco Rosé was add 10 to 15 percent Pinot Noir. Also note that the Prosecco Rosé carries a vintage designation with it (2019), whereas most Prosecco is non-vintage, often indicated by NV in the title.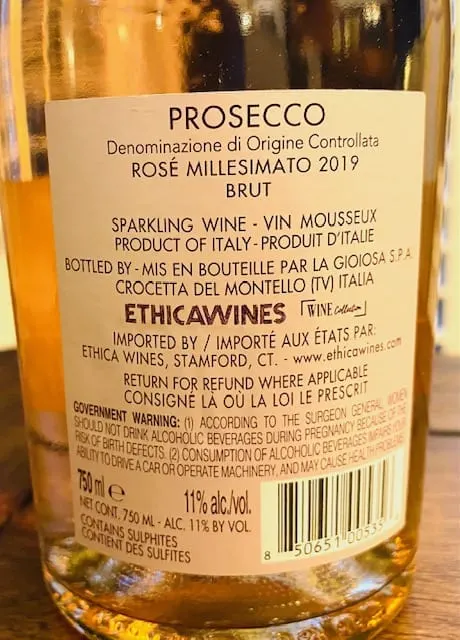 We're big fans of brut rosé, so had high hopes that this bottle would deliver the goods, and it did. This is a fun wine, super accessible, and just ready to be popped for some many occasions. The price at Costco is $8.99, which is great for what's inside.
The wine pours a medium salmon color in the glass, with pronounced strawberry and raspberry flavors. The wine is light and gentle in the mouth with a nice mild effervescence. Really easy going, and a wine that would be perfect before or after a meal, or just fine on its own. It goes down fast.
I think with the holidays approaching there will be plenty of opportunities to pop a bottle like this. And now I look forward to seeing hopefully more Prosecco Rosé gracing our shelves. I have a feeling this is going to be a popular new offering. I know it will be in our household.
CostcoWineBlog.com Rating: 88 points
Costco item number: 1509215
Alc. 11%
This wine was received as a sample for the purpose of writing this review. All reviews are written at the discretion of the individual reviewer. Opinions of the reviewer do not necessarily reflect those of CostcoWineBlog.com as a whole, and reviewers are not paid for their reviews by wineries or their affiliated distributors. We at CostcoWineBlog.com believe that wine preferences and opinions are often subjective and highly individualistic. Our scores are based on our individual perception of a wine and how well it reflects the area in which the grapes are grown, the expression of the grapes, and also the quality of the finished product. We remind readers that we are 100% independent of Costco Wholesale Corporation, and are simply of a group of Costco wine fans looking to try new wines and share our favorites with this community.