Ridge is hands down one of my favorite U.S. wine producers so when I see one of their distinct labels hit Costco shelves, it's like finding a treasure for me. And this bottle especially because it is a wine from Ridge that I've never tasted before, and Costco's price was right on the mark.
Finding anything from Ridge for $20 is a score. Their Zins are in the $30s and up. Most of their other wines are more expensive than that. This wine came in at $19.99 at my Costco. It's $24-29 online and $30 at Total Wine.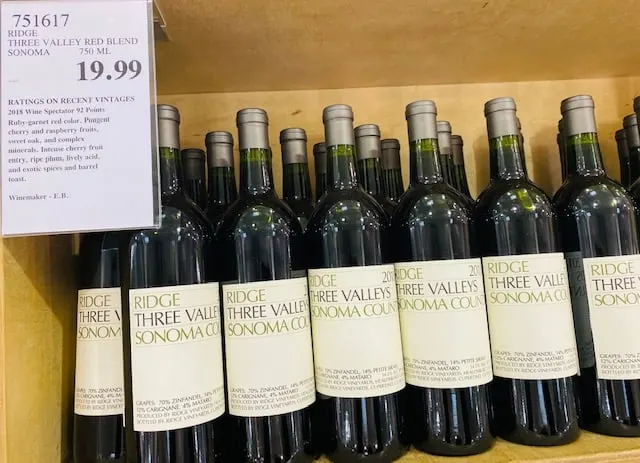 Ridge is known for their amazing Zin portfolio, and this Sonoma red blend is led by Zinfandel. The varietal breakdown is 70% Zinfandel, 14% Petite Sirah, 12% Carignane and 4% Mataro.
For Zin fans, this is a no brainer but fans of red blends should take note too. While this wine exudes Zin characteristics, it is also masterfully blended to create a very accessible, very enjoyable red wine that I think will appeal to a lot of palates and could pair with many different types of food.
This wine pours a medium ruby with a little purple; it has an aromatic nose of flowers, spice and plum. It is delightful in the mouth with silky tannins, medium in body; flavors of black cherry, blueberry, blackberry, and a little jam; there's a touch of oak on the toasty finish.
This wine is well made, well balanced, and just what I hoped for from Ridge in a Sonoma blend. They are just so consistent. Although their wines are not inexpensive, they always deliver high quality for the price, at least in my opinion.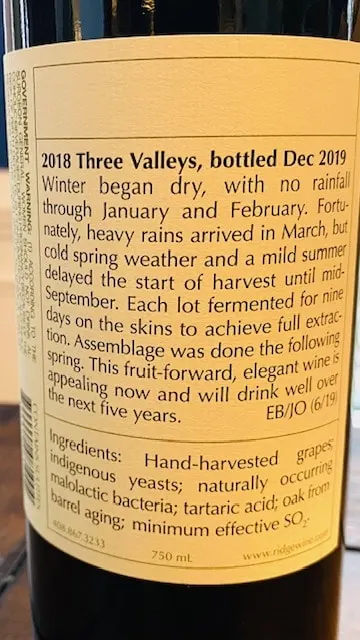 I'd encourage readers to look for their Estate Cab, Chardonnay, and of course, any of their Zins. If you want to really go nuts, the Ridge Monte Bello ($250), from the Santa Cruz mountains, is one of the most unique and beautiful California Cabs out there.
But to finish up on this blend, this is a great price on a really impressive wine, and one that will earn a spot on our Top Picks list. Nice job Costco bringing this bottle in.
CostcoWineBlog.com Rating: 91 points (a Costco Wine Blog Top Pick)
Costco item number: 751617
Purchased at Costco in: Atlanta, GA (Perimeter)
Alc. 14.5%