A few readers have asked for us to post some new white wine reviews, which made me realize that it had been a little while since we last had. This time of the year, I just gravitate towards the reds, but I made a special point to try to find a good white wine to review on my latest Costco trip. And turns out I did.
I bought this Albarino from Spain's famed Rias Baixas region for only $12 and it was a bottle I have never seen at Costco before now. My hope was that it would turn out to punch above its price tag so I could stock up on a few for the warmer months; and that's exactly what I plan to do.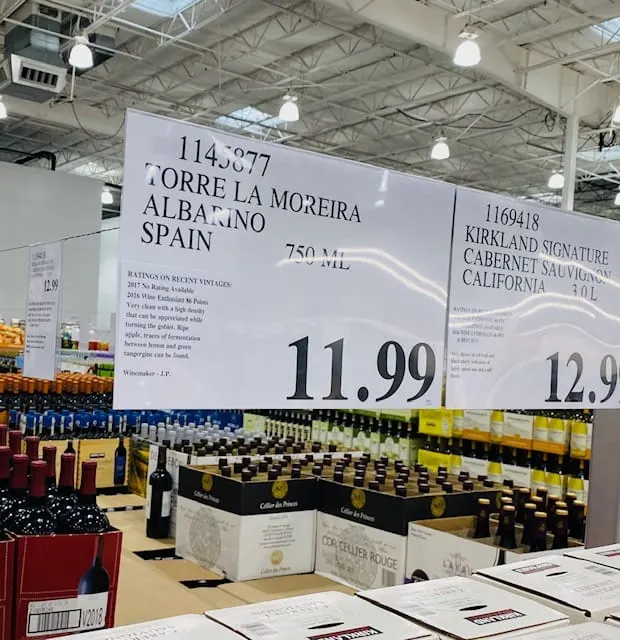 This is a super tasty Albarino for the money. It pours with a slight yellow tint in the glass but overall is pretty clear; lemon pudding and orange peel on the nose; medium body; orange kind of like a grand marnier, with tangerine, apricot flavors and a touch of vanilla. Lingering citrus on the finish.
This is definitely a thirst quenching wine that would be ideal around a pool or beach on a hot day. If you enjoy the Nora, Martin Codax or Burgans Albarinos, I think you will really enjoy this one. Fans of New Zealand Sauvignon Blancs might as well.
This was a fun one to throw in the mix and I'd like to see Costco stock a wider variety of white wines. The stores around me carry too many CA Chardonnays, and there are so many other varietals I would like to see: namely Arneis, Gavi, white Bordeaux, white Rhones, white Rioja, Riesling, Gruner, Hungarian whites, etc.

CostcoWineBlog.com Rating: 89 points
Costco item number: 1145877
Purchased at Costco in: Atlanta, GA
Alc. 13%