Here's an interesting wine from the Sierra Foothills, an AVA known for its Zinfandel that is located on the Western edge of the Sierra Nevada mountains.
There are eight counties within the region, one of which is Amador which might sound familiar as it's among the more well known and we've seen a few wines from Amador pop up at Costco over the years.
This bottle is priced at Costco for $12.99 which is about half of retail, and it turned out to be even better than I expected. It's big and hefty, and definitely not messing around.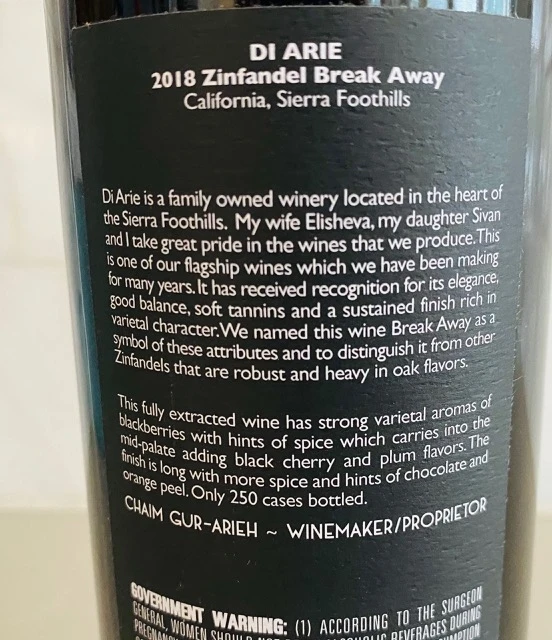 This wine pours a medium purple with a spicy nose that is earthy with dark fruit aromas; packed with flavors of blackberry, black cherry with notes of anise and mocha; feels really nice in the mouth, medium plus in body.
This is big and robust. Acidic into a dry and lingering finish. There's lots to like here, and fans of big Cabs or red blends who are hesitant to try a red Zinfandel would absolutely love this wine.
This wine was sent to me by the producer even after I declined their offer because it has a limited distribution in California Costco stores. So I was under no obligation to post about it.
But after tasting it, I wanted to share with everyone because it's worth keeping an eye out for even at other stores (I think Total Wine carries it). And I'm going to add it to our Top Picks list.
CostcoWineBlog.com Rating: 91 points (a Costco Wine Blog Top Pick)
[I don't have the item number. If anyone sees it, let me know and I'll update the post]
Alc. 14.7%
This wine was received as a sample for the purpose of writing this review. All reviews are written at the discretion of the individual reviewer. Opinions of the reviewer do not necessarily reflect those of CostcoWineBlog.com as a whole, and reviewers are not paid for their reviews by wineries or their affiliated distributors. We at CostcoWineBlog.com believe that wine preferences and opinions are often subjective and highly individualistic. Our scores are based on our individual perception of a wine and how well it reflects the area in which the grapes are grown, the expression of the grapes, and also the quality of the finished product. We remind readers that we are 100% independent of Costco Wholesale Corporation, and are simply of a group of Costco wine fans looking to try new wines and share our favorites with this community.