Someone online posted a photo of a Costco wine bin that was labeled for this Barbera D'Asti but it contained bottles of Brunello. When I saw it I remember thinking how much I'd like to try the Barbera if it did exist. Well, that's exactly what happened as I found it at my Costco on my latest visit.
Price was right too at $14.69. Online it can be found for pretty close to that if you really poke around, but most outlets seem to have it for around $20.
And it just so happens that we were preparing meatballs, using almost all Costco ingredients of course. This wine just begs to be consumed with a red meat or red sauce dish so it was perfect timing.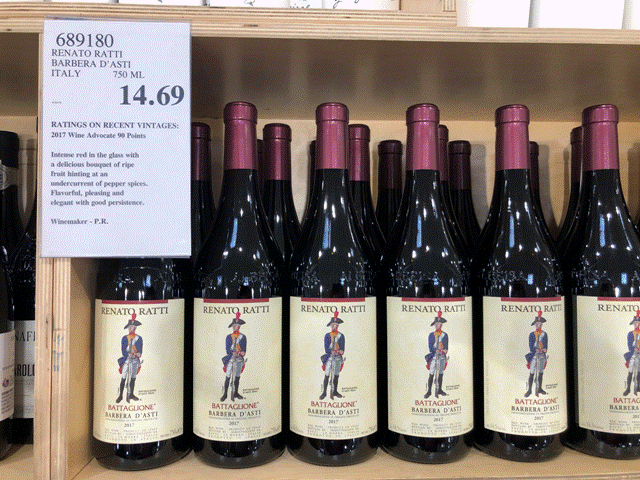 The wine is comprised of at least 90% Barbera grapes as designated by its DOCG status (Denominazione di Origine Controllata e Garantita), and the grapes originate from the famed Piedmont region of northwestern Italy. We wrote a book that simplifies Italian wine regions and classifications if you're interested in learning more.
Overall, I find Italian Barbera wines to deliver incredible value, and this one is a perfect example. It pours super dark in the glass with ripe fruit, pepper and spice on the nose; delicious in the mouth with flavors of black cherry, raspberry, plum and spicy pepper; the wine has some good acidity with tannins that were pretty tight. There's no question this wine could age for a few years and soften up; in the meantime a good decant helped bring it alive. Finishes dry.
It was perfect with the meatballs, and would be great with many Italian dishes. Perfect for pizza night too. Wine Advocate went 90 points, and I'm going to come in just a point below them. This is a fun wine that's a bit different than the usual Costco selection and one that I thought was pretty tasty.
CostcoWineBlog.com Rating: 89 points
Costco item number: 689180
Purchased at Costco in: Atlanta, GA
Alc. 14.5%