This wine debuted about a week ago, and it's one that I look forward to trying each year. In the past, Costco has also produced a Columbia Valley Merlot-Cabernet blend, although I've yet to see this in a couple of years it seems.
I noticed that the latest vintage of the Signature Series Columbia Valley red blend has also recently hit the bins, so be on the lookout for that review in the near future. I wanted to compare the two wines and judge each of them based on their relative price to value. Signature Series wines are usually in the $15-$25 range (this one is $16.99), while the regular Kirkland-labeled wines are generally under $10.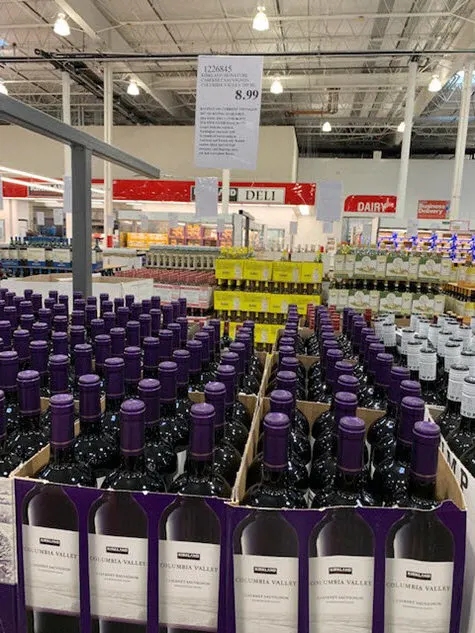 For $8.99, the 2017 KS Cabernet is an excellent value. The wine has a lot of structure while still maintaining a smooth and fruit-forward palate. There are a lot of rich, dark fruit flavors, and the it's a pleasure to drink.
I would venture to say that this is one of the better value Kirkland signature wines, especially of the Cabernet varietal. That being said, the off-dry, jammy and ripe palate is not for everyone.
I tend to pick up a lingering essence of sour fruit punch when I drink inexpensive Cabernet, but thankfully I did not get that here. What I did get what a lot of heat. The 14.5% alcohol is very prevalent and so I would be cautious both with the temperature that you serve the juice (aim for 60 degrees) as well as the food pairings (nothing spicy). I will admit that I committed the ultimate wine sin and added a couple of small ice cubes to my glass to tone down the heat.
I would buy this bottle again and would definitely recommend having a couple on hand for an occasional weeknight wine. It's likely to be a crowd-pleaser, so you might want to pick up a case for your end-of-summer event as well.
CostcoWineBlog.com Rating: 88 Points
Alcohol: 14.5%
Costco Item Number: 1226845