I just picked this one up the other day and wanted to get the review out as soon as possible. This Rosé has a retail price around $20, and Costco's standard price was $15.69, which is pretty good and in that 20% off retail range like many of Costco's wines.
But it has a special discount that ends on 8/4 that knocks the price down to $8.99, which is pretty awesome for a Cotes de Provence Rosé, especially one that Wine Advocate rated 90 points. I was a little less impressed then them, but still found a solid wine inside that is nice and refreshing, and a very good buy in this price range.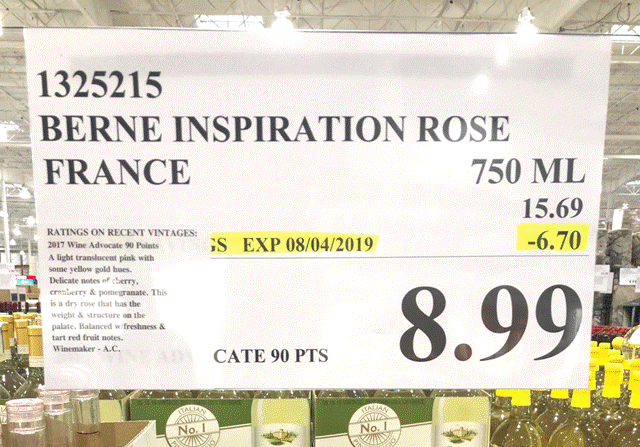 The bottle didn't indicate the varietal makeup but I did a little poking around and found it: 50% Grenache, 30% Cinsault and 20% Syrah. Pretty much what I expected from a Rosé from this area.
The wine pours a nice light pink, salmon color (more farm raised than wild); the nose has subtle berry scents, and I picked up a touch of honey. It's mellow in the mouth, pretty clean and simple; strawberry with some grassy acidity and a bit of pineapple; dry on the finish.
Again, it's a subtle wine, easy drinking and it goes down fast, especially if you're poolside or hanging at the beach on a hot day. A good buy for $15, but a very good buy for only $9 if you find it at a Costco near you.
CostcoWineBlog.com Rating: 88 points
Costco item number: 1325212
Purchased at Costco in: Atlanta, GA
Alc. 13%