Smith and Hook are the names of two ranches that were replaced by namesake vineyards sometime in the late 70s before the Hahn couple bought the property. Known to me as producing one of the better Central Coast Cabernets that I've had, I was eager to try this when I first saw it.
The base of this blend is Merlot with a backbone of Petit Sirah, which lends structure to the wine. Malbec and Cabernet complete this claret from the Central Coast AVA in California. You could call it a Meritage as well.
I got chocolate, cola, and ripe berries on the nose. The wine was both balanced and structured with a lingering finish. There is enough acidity and structure for it to withstand the test of time, but drinking it now is fine. For $15.99, It drinks like something in the $20 range.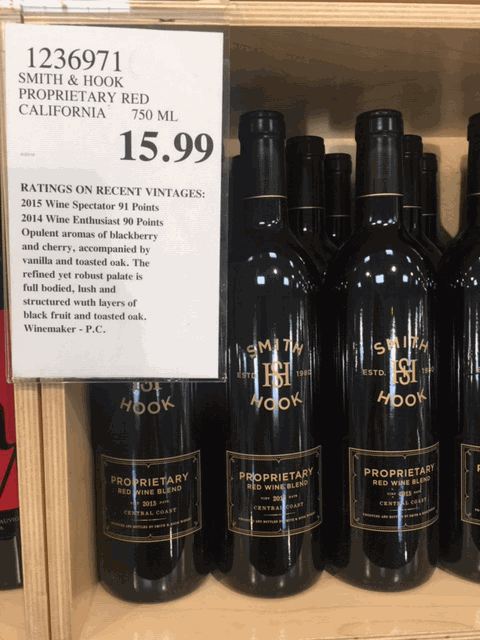 This muscular red blend would pair well with roast chicken, grilled hamburgers (I see you, summer), and a sharp cheddar cheese. Costco has a nice Kerrygold Dubliner Irish Cheddar that I think would be an excellent complement.
Wine Spectator gives this vintage 91 points and Wine Enthusiast gives it a 90. I think these scores are fair, and both reviewers have only positive things to say about the wine. I thoroughly enjoyed it as well, and I plan to pick up another bottle to enjoy in the winter months.
CostcoWineBlog.com Rating: 90 Points
Alcohol: 14.8%
Costco Item Number: 1236971
Purchased in Buford, GA