I love a good Barbera. This thin-skinned grape produces wines that, at best, are floral, elegant, and lingering. A less-desirable example, usually one-dimensional and fruity, is still highly enjoyable to drink.
The best Barbera wines come from one of two areas in Piedmont. Wines from the Asti region tend to be the lighter, less tannic, and more delicate in flavor offering. Barbera D'Alba wines are usually bold, more full-bodied, and exhibit more structure than the former.
It is safe to compare Barbera to Pinot Noir. Both grapes are high in acidity, lend cherry fruit flavors, and have thinner skins than most. Wines made from either of these grapes tend to age well, especially if they've spent a substantial amount of time in oak.
Barbera is definitely more tannic than Pinot Noir, however, and the younger wines deviate from typical cherry profiles to a core of dark berries with a purple hue similar to that of Malbec.
Costco doesn't sell a lot of Italian Barbera, at least not that I've seen in the last few years. In their defense, it's not a highly sought-after wine, and for a few different reasons.
One, the average wine consumer doesn't know much of anything about the wine. What is it like? What would you compare it to? These are common questions that I've gotten about Barbera in my experience.
Secondly, for those who have tried this wine and are familiar with the style, my guess is that roughly half would buy it again. It's not "delicious" in the sense of an easy-drinking and smooth wine with decadent fruit flavors (i.e. the most popular and widely sold wines in the U.S.). Barbera is your typical Italian wine, in my opinion; food-friendly, enjoyable and interesting, but not necessarily crowd-pleasing.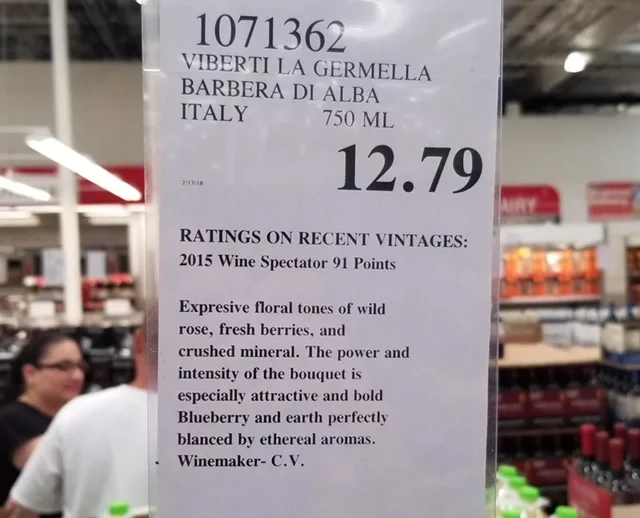 Viberti's "La Gamella" (the twin) Barbera D'Alba appeared at my local Costco club earlier this week. The $12.79 price tag and 91 Point Wine Spectator rating (but for the previous vintage) caught my attention. Also, I happen to be a Barbera fan. Hoping for something similar to some of the amazing and bold Barbera D'Alba's that I've had in the past, I must say that I'm mildly disappointed.
This wine, while an accurate representation of a young and inexpensive Barbera, is fairly simple and uninteresting. The nose is pleasant with vanilla and dark berries while the palate is tart, too-tart almost, with a metallic quality that only works against the mildly mouth-numbing phenolic quality of the finish.
I would pair this wine with pork tenderloin, flank steak, or even grilled swordfish. The simplistic, fruit-driven flavors call for proteins that pair well with fruit. I would steer clear of drinking this wine with anything tomato-based. This is not a good compliment for pasta with red sauce or pizza. It would only exacerbate the acidity of the dish.
CostcoWineBlog.com Rating: 88 Points
Costco Item Number: 1071362
Alcohol: 14.5%
Purchased in Buford, GA