Cotes du Rhone is an easy choice when you're looking for good value under $15, and frequently, as is the case here, you can find it for even less. This wine was $7.99 at my Costco, which is pretty crazy for a fairly nice, very drinkable and somewhat interesting red table wine.
It pours pretty dark, and begins with subtle aromas; almost a little soapy, earthy undertones. Flavors are a combination of red and dark fruit led by blueberry with sour cherry, a bit of black licorice; not as peppery as I was expecting (or hoping for), but there are traces of spice; finishes super dry.

The blend is 80% Grenache with 20% Syrah, and the wine is young and juicy. It's pretty simple and straightforward which is more than fine at this price range. It can easily pair with most cuisine, and is fine being enjoyed on its own.
Bonus points for being a great party pick if you need to buy a high quantity of reds. The bottle looks sophisticated and few wine fans will turn away from a Cotes du Rhone at a party when the usual offerings are much lesser quality, mass produced wines. It doesn't hurt the winemaking family behind this bottle also maintains a presence in nearby Chateauneuf-du-pape, where some of the best Rhone wines are produced.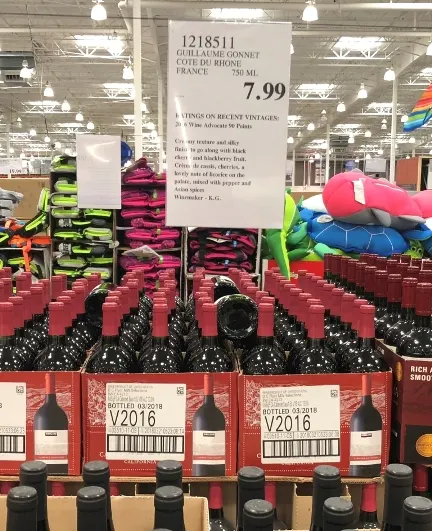 So overall, big value here. Very drinkable for only $8 which puts it in a league of its own really. I'd stock up on these if you find them. They will also be nice to have on hand down the line in the colder months, and their versatility makes them a solid choice for so many occassions.
CostcoWineBlog.com Rating: 88 points
Costco item number: 1218511
Purchased at Costco in: Atlanta, GA
Alc. 13.5%