I've never heard of Northwest Ridge Winery and for some reason I decided to drop this bottle in my cart to see what it was all about.
I noticed the 90 point Parker rating and the price was right at $13.99 (retail appears to be around $22, so Costco has a nice discount on this one). Plus, I'm typically a fan of Columbia Valley Cabs and have found some amazing values from the area. Most notably is perhaps the Wines of Substance CS Cabernet that is in Costco stores now, which I think is an excellent buy at only $12.99.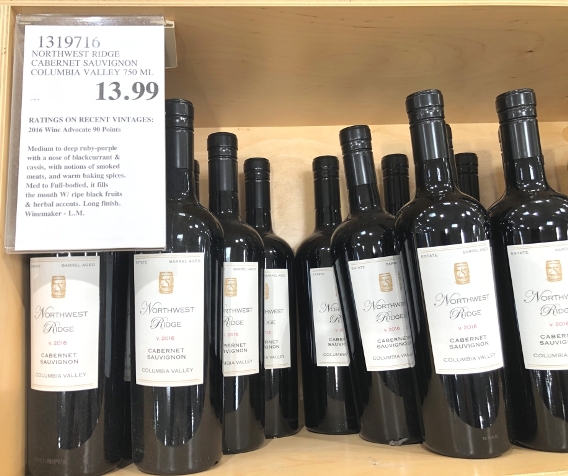 This Cabernet from Northwest Ridge turned out to be pretty good, right alongside the CS but different in a few ways. Beginning on the nose, this wine is spicy, big with dark fruit flavor. That carries into the flavors of blackberry, blueberry, mocha, chocolate in the mouth; there's a bit of smoke and oak in the finish. More complexity here than you find in most bottles in this price range.
The CS Cabernet focuses a bit more on the fruit, whereas this wine brings more barrel influence in the wood and smokiness. Both great buys at Costco for Cabernet under $15. You can't go wrong with either one and I would pick them both perhaps depending on the environment.
I'd opt for the CS to stand on its own, and pair the Northwest Ridge with some red meat. We enjoyed the Northwest Ridge with a spicy beef dish that was great.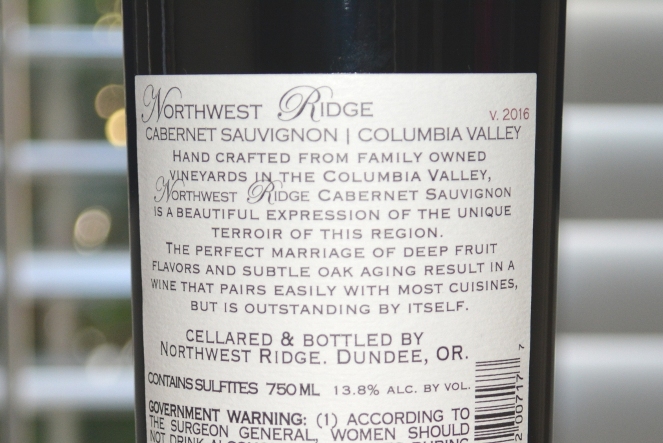 Online it states that only 400 cases were produced, which makes it pretty limited in reach. Overall, it's a wine I could get into, and I have to say exceeded my expectations. There's a bit more going on here than meets the eye, a fun wine for sure, and the kind that I love to discover at Costco as I otherwise might not have picked out on my own.
CostcoWineBlog.com Rating: 90 points
Costco item number: 1319716
Purchased at Costco in: Atlanta, GA
Alc. 13.8%