Ok, I know it's Monday and the next review should technically not come out until Wednesday, but we had to get this one in your hands right away based on how fast this wine sold out last year.
We could only be talking about the Kirkland Cotes de Provence Rose that is hitting stores right now by the pallet. The rock bottom price of $9.49 for this current vintage is a mild $0.50 increase from last year, and the big question becomes, is the 2017 as good as the 2016 vintage that we all loved so much?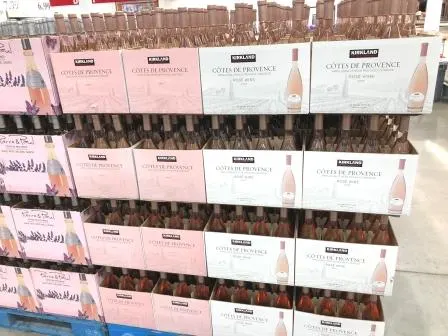 The short answer is yes. You'll want to stock up on this one on your next visit. And when we say stock up, you should buy for the whole summer, because if last year was any indication, this wine will likely sell out in the next 30-45 days, if not sooner. And this wine will be so so good on a super hot summer day.
So what's inside?
It's another interesting blend of grapes, starting with the expected varietals of Grenache (25%), Mourvedre (25%), Cinsault (20%) and Syrah (15%), then smaller parts of Tibouren (5%), Rolle (5%) and Cabernet Sauvignon (5%).
Again this year, the label indicates the wine is bottled at Domaine De LaCroix, which we don't know a ton about, except they are the same folks who produced last years wine. I found a few other very similar rose wines from Domaine De LaCroix online and they are priced more than twice as much as this one.
This is a crisp and refreshing rose just like you expect from Provence. It's pale salmon in color, dry throughout with a nice touch of acidity, red berry fruit and citrus, medium in body with a minerally finish.
Similar tasting notes to years past, so if you enjoyed the 2016 vintage, I think you'll find a lot to like here too. And the price is just perfect at $9, making it that much easier to stock up.
CostcoWineBlog.com Rating: 90 points (a CostcoWineBlog Recommended wine)
Costco item number: 1133993
Purchased at Costco in: Atlanta, GA (Kennesaw)
Alc. 13%