The interesting label on this wine caught my eye. It's a large number "2" that appears to have been cut in half in an abstract way. I was also attracted to the words "Napa Valley Red Wine," but it was the 91 Points from Wine Enthusiast shelf-talker that sold me in the end (as well as the $16.99 price).
These days, it's hard to find a bottle of 2015 Napa wine that's not at least a little bit overpriced when compared to similar wines from other areas. As far as Cabernet goes, most producers raised the prices of their 2015 offerings due to significantly lower yields.
The four-year streak of drought seems to have finally caught up to production. You have probably noticed that your go-to Napa Valley Cabernet took a price increase anywhere from $2-$10 per bottle. I certainly have.
Rutherford Ranch's Two Range Red Blend, so-named for the Vaca and Mayacamas Mountain ranges which border Napa Valley, is an interesting blend of Merlot, Cabernet Sauvignon, Pinot Noir, and Petit Verdot. I say "interesting" because there's a grape in the mix that isn't usually blended with the others.
Thin-skinned and finicky Pinot Noir is not usually added to a Bordeaux blend comprised of tannic and dark-fruit-driven Cab, Merlot, and Petit Verdot. I could not find a breakdown of grapes for the blend, nor the reason behind adding Pinot Noir, but I suspect it's because of the red fruit flavors that the grape adds.
Rutherford Ranch Winery, located on the Silverado Trail in St. Helena, Napa Valley, practices California Certified Organic & Sustainable farming methods. Winemaker Jay Turnipseed believes that in doing so, the quality of the fruit really has the opportunity to shine in the wines, and that future winemakers will have a preserved environment from which to work with.
I would love to visit this area in the near future, and after watching a short Vimeo film on the winery's website, I learned that one can walk through a 100-year-old olive grove or taste through a portfolio of the winery's offering in their newly renovated tasting room.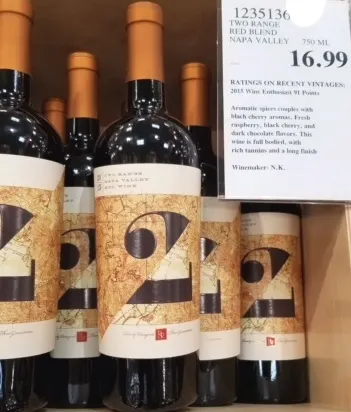 Although this wine is produced in Rutherford, Napa, the fruit for Two Range Red does not necessarily come from this area. I suspect that the Pinot Noir in the blend comes from another area in Napa since the winery does not mention growing this grape on their webpage. Either way, this is a solid red blend and offered for a fair price at Costco.
I got a lot of vanilla on the nose along with cola, ripe raspberry, and cranberry. The wine is tart on the palate with red fruits like strawberry, cherry, and even blueberry. The wine is well-balanced with restrained alcohol and excellent structure. The finish is clean.
This is a good-quality wine that is fairly easy to drink. I would serve this wine cooler-than-room-temperature and with or without food. Good pairings would be lightly-sauced grilled chicken, flank steak, or roasted pork tenderloin. Swordfish and salmon are heartier fish choices that would match the structure of this wine. The tart and underripe red fruits would complement chocolate-based desserts also.
I love the structure of this wine, and I would label it a crowd-pleaser. If you are entertaining a mix of Cabernet & Pinot Noir drinkers, this wine might just satisfy both. I also think it has the potential to be fairly versatile in terms of food pairing. I could drink this on its own but it's not a big enough wine to overpower any one dish. However, because there is a bit of spice on the palate, I would avoid serving this with dishes that are also spicy.
CostcoWineBlog.com Rating: 89 Points
Alcohol: 13.5%
Costco Item Number: 1235136
Purchased in Buford, GA