This is the first we've seen of the Kirkland Toscana, a Super Tuscan blend that comes in at only $13.99. Readers have been buzzing about this wine, and we're happy to see it arrive in Costco stores near us in the Atlanta area.
Quick background on Super Tuscans; Italy has strict rules for the types of grapes that can be grown where and how varietals are presented and labeled. So Tuscan wines were required to be predominantly Sangiovese. And while most are still dominant in that varietal, a band of rebellious winemakers several decades ago began experimenting with blends that included non-indigenous grapes, such as Merlot, Cabernet Sauvignon and Syrah.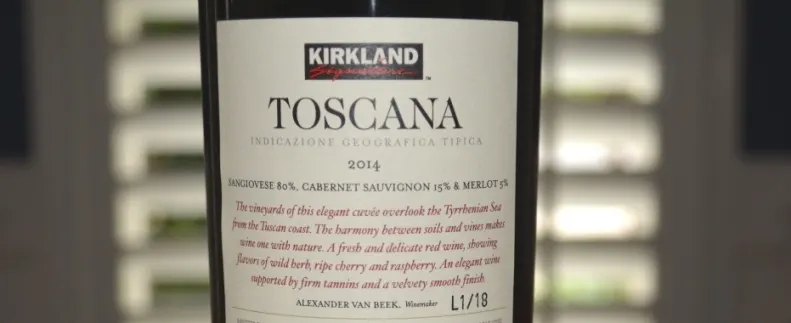 The resulting wines, including the legendary and still amazing Sassicaia that kicked off the movement (super expensive wine that is actually totally worth the money), blazed the path forward for a new generation of winemakers who began to blend different varietals and create some amazing wines across all price spectrums.
Ok, that brings us very rapidly to the wine we are drinking now, which is comprised of 80% Sangiovese with 15% Cabernet Sauvignon and 5% Merlot, placed in a slightly more than usual heavy bottle for some extra pop.
It's exactly what you expect, that classic super tuscan flavor and style, dry and dusty, or as l like to say "library book."
This wine is your perfect pizza wine. It's built for that, simple, fun fare with friends, just serving as a nice complement, not the focal part of the evening. It's fruity and a little sweet, and hints at its origins enough to be thoroughly enjoyed. But it's not the wine you're going to seriously dig into and find a great deal of depth and comlexity.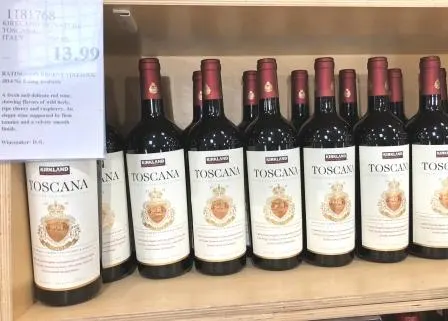 But, it's also priced at $14, so it's not trying to be a Brunello for double that price. It's exactly what it is supposed to be and delivers substantial quality at a great price, as Kirkland wines often do.
The winemaker is listed as Alexander Van Beek, who on an initial Google search shows he's the proprietor of two properties in Bordeaux. But a little more poking around shows that he is also the general manager at Caiarossa, a prominent vineyard in Tuscany.
So it's likely we're getting some good juice here, and I think this wine is right in line with where it should be.
Head on over to our new Costco wine forums and share your opinion and see what others have to say about this wine.
CostcoWineBlog.com Rating: 88 points
Costco item number: 1181768
Purchased at Costco in: Atlanta, GA
Alc. 13.5%