Every now and then Costco will get a wine for a mega-good bargain price. This one jumped out at me yesterday. I noticed first that the price was significantly less than normal retail and second that the wine has been immediately deleted (marked with an asterisk).
Robert Mondavi originally coined the marketing term "Fume Blanc" in the late 1960s when he started growing Sauvignon Blanc in Napa Valley. He needed a way to distinguish his dry-style offering from the low-quality and sweet juice that was currently available in the market.
He chose to use the word "Fume" after the famed Pouilly Fume region in the Loire Valley of France, known for its dry and fuller-bodied Sauvignon Blanc wines, since this was closer to the style of wine he was producing. He could have trademarked the name under his brand but instead chose to allow all winemakers to use it. Hence today, you will often see wines from various producers that are labeled "Fume Blanc."
Despite common misconception, this wine is not sweet nor is it made from a grape called Fume. I like to think that Fume Blanc is to Sauvignon Blanc what Pinot Gris is to Pinot Grigio. Both wines are made from the same grape, but the former styles are fuller and rounder-bodied while the latter tend to be lean and more citrus-driven.
I personally love Napa Valley Sauvignon Blanc. While not as widely-grown or popular as the other Bordeaux varietals, I think the quality and concentration of flavor for Sauvignon Blanc-based wines is really just heads above those from other New World areas.
A good-quality California Sauvignon Blanc will just explode with tropical fruit flavors of peach, grapefruit, and pineapple while maintaining notable floral components balanced by subtle minerality. What can be more delicious than that?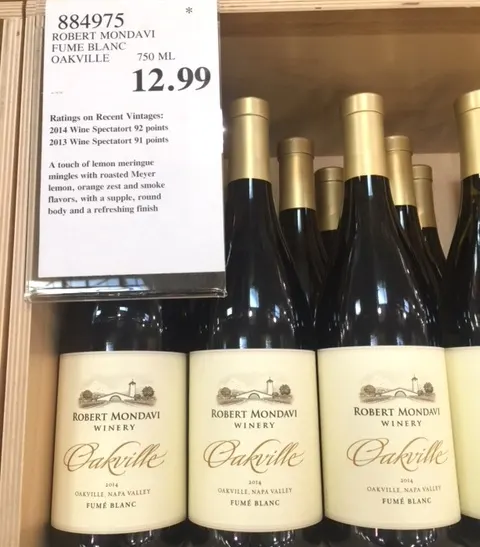 This is a heavier style of Sauvignon Blanc than what most of you are probably accustomed to. Tasting this alongside a Marlborough offering would likely make you doubt that the two wines are made from the same grape.
This wine needs a few minutes to open, and I wouldn't serve it ice cold. The nose gives away oak-aging with pronounced vanilla & caramel aromas. I also picked up on ripe pineapple and floral notes. Surprising acidity and dryness on the palate confuse my brain since the wine tastes nothing like it smells, and the finish is lingering with a little bit a heat on account of a relatively high alcohol content.
There is an almost savory or saline note as well. I also detected a bit of yeasty creaminess on the finish which tells me that the wine was aged on its lees for a time. If the finish on a white wine reminds you of Champagne, you can bet there is some sur lie action happening.
I like to check the tech sheets, usually available on the winery's website, after I taste a wine in order to confirm what I believe to be true. Upon doing so, I learned that this wine is a blend of 79% Sauvignon Blanc and 21% Semillion, aged in 60 gallon French Oak barrels (8% new), and then aged sur lie for eight months with hand stirring (batonnage).
This is essentially crafted as a traditional White Bordeaux would be. One thing that I found to be particularly interesting is that 100% of the fruit for this wine comes from Mondavi's famed To Kalon (Greek for "Highest Beauty") Vineyard. So, not only is this wine Oakville-specific, but it is also a single vineyard wine.
Sauvignon Blanc ages well when Semillon is added to the blend. I never shy away from purchasing an older vintage of a Sauvignon Blanc that has been oak-aged or blended in the traditional Bordeaux style. Because the current vintage offered at Costco is 2014, I would recommend buying one for now (or however many you think you may drink this summer) and perhaps one to hold and see where it goes.
This is definitely a food wine, and I paired mine with a sliced and slightly-overripe Gala apple (also purchased at Costco) which I feel went nicely at the time (as far as breakfast goes). This wine would pair really well with white fish dishes and raw oysters. I think some home-run pairings would be grilled Halibut with a tropical fruit salsa or Cod Piccata.
Wine Spectator gives this wine 91 Points and describes it as "offering a mix of honeysuckle, candied ginger peel, and lemon verbena flavors on a smooth and crisp body," which are not flavors that I initially picked up on but that I agree are there. I wish I had pinpointed Lemon Verbena because that call is spot on. The publication lists the price at $40, which is what the winery currently offers this wine for. Costco offers it for $12.99.
My personal belief as to why this wine is priced so well is that the current market does not demand this style of Sauvignon Blanc in nearly the same quantities as California Chardonnay or New Zealand Sauvignon Blanc. At least in the area that I live in, New World whites that are presented in Old-World styles are a bit confusing to the consumer, and I suspect that a significant number of members may see this wine and wonder what it is exactly.
For you who are informed, take advantage of this opportunity because the wine is deleted and likely not to return at this price if at all.
CostcoWineBlog.com Rating: 90 Points (a CostcoWineBlog Recommended Wine)
Alcohol: 14.5%
Costco Item Number: 884975
Purchased in Buford, GA