It's been a little while since we got our hands on one of the Kirkland Columbia Valley offerings from Washington State. The last one was this 2015 Cab-Merlot blend that we thought was pretty good, and before that we had to dig into the vaults to find this Columbia Valley Bordeaux blend we really enjoyed too.
Now we get the straight Cab from the '16 vintage and Costco's price is only $8.99, which I'll say up front here is a steal for a wine like this. There are a few Kirkland Cabs in stores right now to choose from, including the Alexander Valley that we recently reviewed (good choice). I've also heard the new Kirkland Stags Leap is out there but I have yet to see it.
But among the selection I've tasted in stores right now, this Columbia Valley bottle, for $9 might be the best choice. It's some good quality juice at a really low price point.
Ripe blueberries on the nose, with juicy fruit, mostly dark, blackberry, blueberry with notes of anise and leather; deep lasting finish that is super dry. This wine drinks way above its pay grade. We paired with some meatballs (Costco ground beef + ground bison, delicious) on an overcast summer day, and it was a nice match. It's a good one for a summer BBQ too.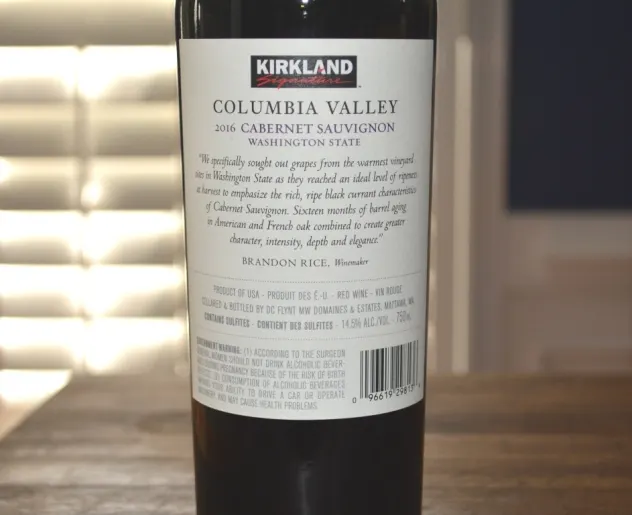 I love when the back of the label lists the winemaker, which we learn in this case is Brandon Rice. A quick Google sleuth reveals he's the winemaker at Wahluke Wine Company, which is owned by Milbrandt (who has produced other Kirkland wines in the past). So we have a good team behind the scenes on this one.
This is probably one of the better Kirkland wine buys floating around in stores right now, so I plan to scoop a few up to hold on to for the cooler months. I'm going to add to our Top Picks list because of the high quality to low price ratio.
CostcoWineBlog.com Rating: 88 Points
Costco item number: 1226845
Purchased at Costco in: Atlanta, GA
Alc. 14.5%
Share your opinion and see what others have to say about this and other wines we review in the Costco Wine Blog Forums.