I must admit, I was attracted initially to the superficial appearance of this wine. The label is simple and classy with a small illustration of a winemaker tending to a grape vine.
I liked the exaggerated curve of the Burgundy bottle as well, a hint to the style of Pinot Noir inside. These kinds of bottles are nice for presentation but annoying in that they don't fit well into wine racks.
Although wines from Chile are classified as New World, I have always felt that these wines, while fruit-forward, have similar nuances as those from European countries. Chilean wines are earthy, dry, and often a bit green. Finding one that strikes the right balance between underripe funk and juicy fruit can be difficult, albeit rewarding.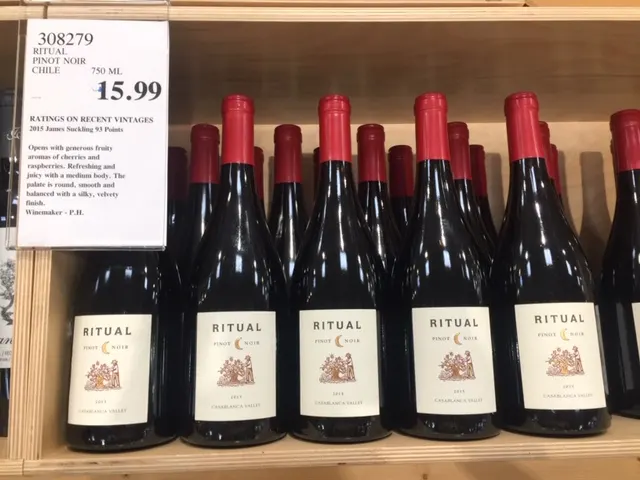 Ritual Pinot Noir is just that. The nose is intense and perfumed with cola, cherry, vanilla, and raspberry jam. Moderately intense on the palate, the flavor mimics the nose. The wine is a little tight, however fine tannins hint that it will improve and further develop over the next few years.
The juice inside this bottle is evidence of Old-World winemaking methods, and the back label describes "planting each vine [and] hand harvesting in small batches" in the same manner as "some of the world's greatest Pinot Noir."
You mean like Pinot Noir from, oh say, France?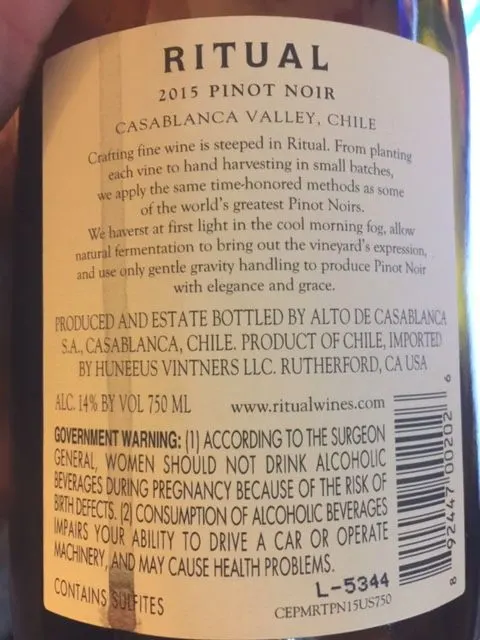 While the fruity nose is a dead giveaway of a New World wine, you know you're not in California when you drink a glass of this. The finish is different. It's drier and a little more complex than others in this price range. Savory qualities and mineral notes echo the Old-World winemaking attempt.
James Suckling gives this wine 93 points, which honestly doesn't mean much to me but I felt the need to note it anyways. The average price for this bottle online is around $22, so the $15.99 Costco price tag is definitely a significant savings.
If I were to still casually stroll the wine aisles of Costco and offer suggestions to members, this one would definitely be on my list.
CostcoWineBlog.com Rating: 91 Points (a CostcoWineBlog Top Pick)
Costco Item Number: 308279, price: $15.99
Alcohol: 14%