First and foremost, I'd like to issue an apology to our readers for not writing this review sooner. I tasted this wine a couple of weeks back and simply forgot the whole experience.
Luckily, I always take notes when I open a bottle that I plan to review, so I have more to share with you today than what I can pull from my memory, which is simply: "Pass."
Because wine reviews are subjective, meaning that what you like, I may not necessarily like, and what I deduce from a wine you might totally disagree with, and so-forth, please do not read this review and assume that you will dislike this wine as much as I do.
I arrived at my opinion based on prior expectations and by using an expert panel consisting of myself and my husband during an average weeknight dinner. He did not care for the wine either. We poured it down the drain, in fact.
There was just something… metallic and blood-like about it, which I almost always expect from a full-bodied Italian wine, but in this case it was just too much. I fully take the blame for our time and money ill-spent seeing as I gambled on a grape that I'd never heard of.
A grape named Teroldego composes 90% of this blend with the other 10% being Syrah. Well, hey, I've heard of that! I love Syrah! This was my thought process when I purchased the wine. Here's a pro-tip for you. If a wine is a blend of 90% of something with 10% of something else, you can basically disregard the lesser grape in terms of flavor expectations.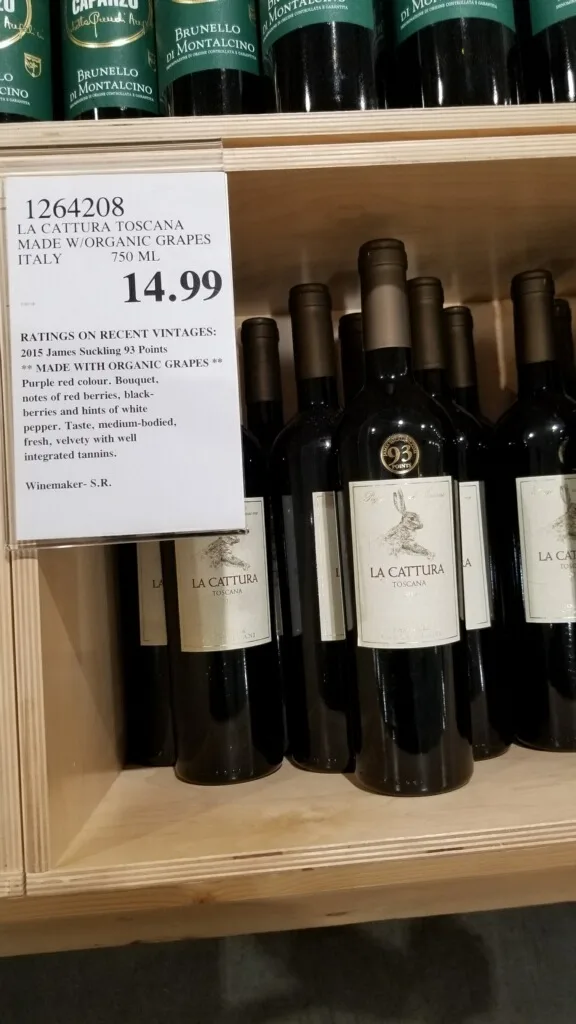 "La Cattura," meaning "the capture" is a Super Tuscan IGT blend made from organically grown grapes. The label features a wild hare, and the name derives from an annual hunt, or capture, of these animals. The website mentions that the capture is "non-violent," and that no animals are harmed or killed during the event.
The wine itself is full-bodied with dark berry flavors that are, quite-frankly, completely obliterated by the aforementioned rusted blood notes. There was notable tannin in the wine, and I probably should have frozen it to use later this winter for braising.
I was curious what the Vivino world thought of this wine. My one-star rating was harsh but justified considering I poured the wine out without drinking it. Did others feel the same way? Not really. The wine has a solid 3.7 average star rating out of a possible 5 for the 126 ratings it received.
Perhaps I got a bad bottle? Perhaps my biochemistry, and my husband's, picked up on something offensive in the wine? It's not a stretch to assume that, like cilantro, there are some people who will love it and others who will absolutely abhor it. I do think its relevant to add that I am no stranger to wine faults and I did not detect any of the obvious ones. While the wine did have an oxidized quality to it, it did not taste scorched or like it was overexposed to heat.
James Suckling gives this wine 93 points, which probably explains why I don't give much weight to James Suckling ratings as an accurate measure of a wine that I will like. I cannot in good faith recommend this wine to anyone, but if you have had the fortune or misfortune of purchasing this already, let me know in the comments or on our forum what you thought.
CostcoWineBlog.com Rating: 75 Points
Costco Item Number: 1264208, price: $14.99
Alcohol: 12.5%