This is the second year for the Kirkland Gigondas and I was happy to see the price stay consistent year to year at only $14.99.
Finding wines from Gigondas priced this low is almost unheard of as evidenced by a quick Google search I did here. (if the link doesn't work, I Googled "Gigondas" and then hit the "Shopping" tab to find a list of retail prices; the results showed most wines in the $30-$40 range, the lowest being $25)
So there's little question that this wine is priced right, which is what we expect from Kirkland branded bottles. And I'm happy to say I found this year's Gigondas a slight step up from last year, which we also enjoyed and scored 87 points.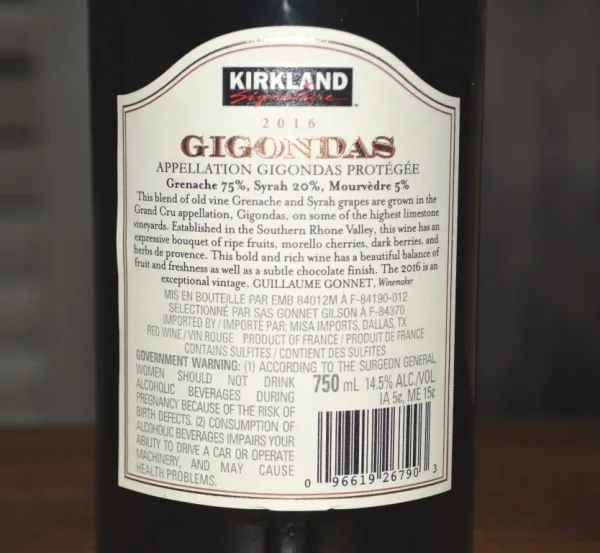 In reviewing the tasting notes on the 2015 vintage, many things transfer to the current vintage, but I really felt the finish was stronger in the 2016, and for that reason we're going to bump the score up one point.
Getting into the wine, it starts a little funky right after you pull the cork. Plan for at least a 15-30 minute decant to let some of that funk blow off, and it will.
The nose was perfumey with spicy dried fruit and earthy scents; nice mouthfeel, medium to medium plus in body; flavors are black fruit, blackberry, anise, mocha surrounded by loads of spicy pepper; there's a touch of herbs and bell pepper into the close; strong and lasting finish.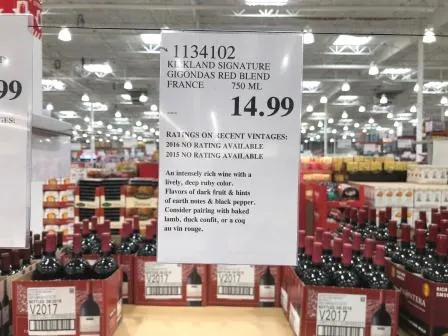 The wine consists of 75% Grenache, 20% Syrah, and 5% Mouvedre (same varietal composition as previous year). Lots to like here at the price point. I plan on pulling together a list of Thanksgiving Costco wine picks here soon, and this one will certainly be on the list.
CostcoWineBlog.com Rating: 88 points
Costco item number: 1134102
Purchased at Costco in: Atlanta, GA
Alc. 14.5%
Be sure to check out what's going on in the Costco Wine Blog Forums, and share your opinion about this wine and any others that you find in your local warehouse. We have a great community of Costco wine lovers and we all share the same goal: finding good wine and good prices.