I've been getting more into blends lately because I find that these wines are often fairly well-balanced, smooth, and easy-drinking. Winemakers can manipulate the varying amounts of each varietal in any given cuvee in order to achieve the style and quality desired.
I feel that I often have to defend blends because people sometimes turn up their noses at any wine that's not 100% of a grape.
Just the other day, while gazing into the fine wine cooler alongside a couple who was shopping for a gift, the man commented to me "it has to be Cabernet; this guy hates blends." I explained to him that wines that are labeled as single varietals are often blends; Merlot added to a "Cabernet Sauvignon" to soften the wine, or Petit Verdot added for structure.
Sure, there are plenty of 100% Napa Cabernet Sauvignons on the market, but I wouldn't open one from 2015 until 2020 at the earliest. Blending makes the wines more approachable right now.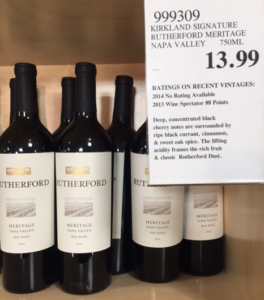 If you haven't guessed by now, a wine labeled "meritage" is a blend. It's relevant to note that a wine labeled "claret" is essentially the same thing; the difference is that "meritage" is a trademarked name.
In 1988, a group of American winemakers formed The Meritage Association (currently known as The Meritage Alliance) in order to promote and identify wines that are comprised of two or more of the noble grape varieties of Bordeaux (Cab Sauv, Merlot, Cab Franc, Petit Verdot, & Malbec).
If the blend includes any additional grape variety, then it is by definition, not a Meritage. Also, any one grape cannot make up more than 90% of the blend.
According to The Meritage Alliance website: "Meritage," pronounced like "heritage," was selected from more than 6,000 entries in an international contest to name the new wine category. Meritage is an invented word that combines "merit" and "heritage" – reflecting the quality of the grapes and the ancient art of blending wine."
The Kirkland Signature Meritage from Rutherford appeared at my local Costco a few weeks ago. It's a young wine, relatively speaking, and lists the blend on the back label as being predominantly Merlot & Cabernet with small amounts of Petit Verdot, Cab Franc, & Malbec.
The winemakers, Marco Digiulio & Glenn Hugo, are also winemakers for Vintage Wine Estates, an umbrella company for a long list of established wineries including the likes of B.R. Cohn, Girard, & Swanson.
Because the wine is still young, it was a little tight & acidic at first. A fruit-forward palate with mild tannins made for easy drinking despite the premature consumption. I would say that the wine is approachable now but would likely be better in a few years.
A Napa district-specific wine, Rutherford at that, for $13.99 is a pretty outstanding value, and alas- the juice delivers a good weeknight wine. Don't clear a spot in your Eurocave for it, but the classy label and impressive designation make this wine completely appropriate to bring to a nice dinner party.
Purchased in Buford, GA
CostcoWineBlog.com Rating: 88 Points
ABV: 14.9%
Costco Item Number: 999309
[Check out some more of our recent Kirkland wine reviews]