I love finding wines like this at Costco and this one turned out to be even more of a gem than I expected. A 2015 Saint Emilion Grand Cru for $16.59. What a deal. My first reaction is a little skeptical but then consider the monstrous ratings from virtually every critic that are all 90+ points.
92 from Wine Spectator and 91 Wine Advocate (I know the Costco sign in the picture below says 90 points for WA but I found 90/92 online; so we can split the difference and say 91). 94 from Decanter. Retail price is $25. Now this is shaping up to an interesting wine.
On top of that, this wine is the project of a well known producer, a fact I didn't realize until I say down to write the review. Saintayme is the Saint Emilion property of Denis Durantou, who produces the highly regarded Chateau L'Eglise Clinet in Pomerol.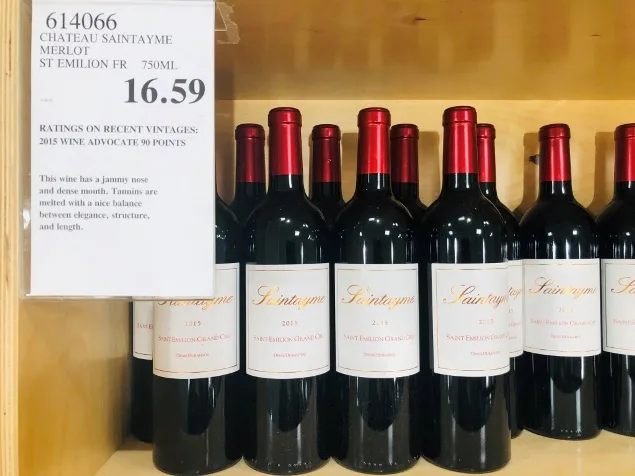 So what's inside the bottle? A delicious and elegant Merlot from a great vintage; a wine that is enjoyable now, but can certainly lay down for bit. For that reason. It's a wine I plan to add to the cellar and revisit in a few more years.
Floral, earthy nose of dried fruit, medium in body; flavors of boysenberry, cherry, dark chocolate; a finish that's really about as dry as you can get. The wine lingers forever. Just gorgeous all around.
If you enjoy Bordeaux wines, this is one of the best Bordeaux buys I've encountered in a while, at any store. Even at its retail price of $25, it's a steal.
CostcoWineBlog.com Rating: 91 points (a Costco Wine Top Pick)
Costco item number: 614066
Purchased at Costco in: Atlanta, GA
Alc. 15%