Love, love, love finding these super inexpensive Bordeaux in the "cheap seats" as Erin likes to call them (the stacks of wine, not in the wooden boxes). While they generally don't make my taste buds explode in cosmic glory, they usually represent a super value buy, heavily discounted from their retail price, and the juice inside is comparable to what you would expect from more expensive bottles.
This wine is very similar to the Chateau Haut Sociondo we reviewed earlier this year that we went 89 points on. I'm probably going to score this bottle a little less, but they are right there in the high 80's for sure. We've found and reviewed quite a few of these inexpensive Bordeaux throughout the past year, and you can browse through them in our French wine section.
One thing to note on this Chateau Cone Taillasson Sabourin is the Wine Enthusiast sticker on the top of the label indicating the wine received a glowing 91 points from the publication. That's certainly a high rating so my interest was piqued. Also at that link, you'll notice the retail price listed as $30, which is nuts considering I scored this at Costco for $6.99 (a 75% price reduction).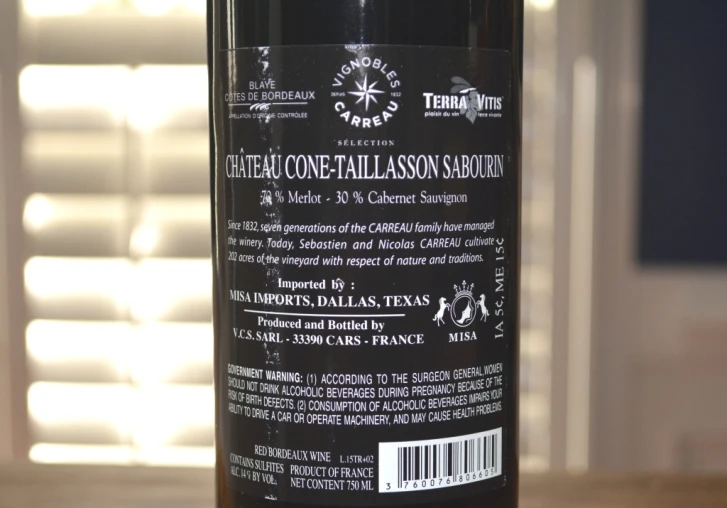 So given all that, what do we have here? Well, it's another nice Bordeaux, especially at this price point. It's a blend of 70% Merlot and 30% Cabernet that's light in body but with nice flavor throughout.
On the nose the wine smells like Dr. Pepper, and much of that cherry, cola flavor carries through in the mouth; it's definitely more on the medium bodied side and it pours a slight see through red; towards the finish is black cherry, red licorice with some dark chocolate notes; good acidity.
The wine finishes a little quick for me; it's dusty and dry but left a little to be desired (and that's getting picky for $7).
Overall, this is an excellent wine for the money. Bordeaux is such a good place to go right now for high value wines like this, so if this sounds like your type of wine, it's an area worth exploring.
And the great thing is that Costco just keeps pumping these sub $10 Bordeaux in stores. I'm sure there are many more winners out there, so please share any good ones that you find.
CostcoWineBlog.com Rating: 88 Points
Costco item number: 1264153
Purchased at Costco in: Atlanta, GA
Alc. 14%
Share your opinion and see what others have to say about this and other wines we review in the Costco Wine Blog Forums.