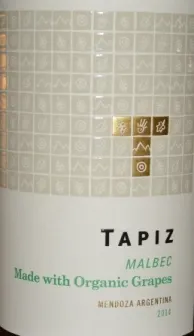 Here's a great value buy that was recommended by a reader of the site. It's hard to believe we're already drinking 2014 wines (reds particularly) and this wine tastes fresh and juicy like it was bottled yesterday. Made from high elevation organic grapes grown in the Malbec mecca of Mendoza, it's hard to go wrong with this one.
Definitely exudes a bit of that South American soil/earth aroma on the nose, with floral notes, violets. In the mouth, this wine is bursting at the seams with ripe red fruit, spicy cherry, strawberry, and red licorice; medium plus in body; strong solid finish with a touch of spice, vanilla and subtle oak.
What I love about wines like this, besides the $12 Costco price tag, is their versatility. You can enjoy this wine with almost any cuisine. We prepared grilled salmon with rice and green beans (all from Costco, love their produce) and it was a perfect complement. Or enjoy this one on its own.
The fact the grapes are organically grown is just another bonus. This is a good buy right now, and a wine that I will add to our Top Picks.
CostcoWineBlog.com Rating: 88 Points
Costco item number: 976786
Purchased at Costco in: Atlanta, GA