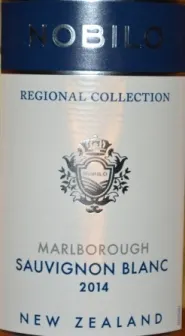 If you enjoy the grassy acidity of New Zealand Sauvignon Blancs, than here's $7.99 well spent on your next trip to Costco. This wine is a Costco staple (in stock, most places, most of the time it seems) and the 2014 vintage is as fresh as could be, which is a trait I enjoy in wines like this.
Lots of lemon and citrus on the nose; then signature New Zealand characteristics; tons of puckery citrus flavor, grapefruit, lemon and apricot. Finishes sticky and candylike in the mouth.
While I enjoy these wines, particularly on their own on a hot summer day, I don't find them to pair with cuisine as much as a toned down California Sauvignon Blanc, or even better a French Sancerre or Chablis (if you'll allow me to move to Burgundy). Save for a citrus salad with white fish or something like that. But overall, a decent summer treat. And for $7.99, you can't really complain.
CostcoWineBlog.com Rating: 87 Points
Costco item number: 258956
Purchased at Costco in: Atlanta, GA