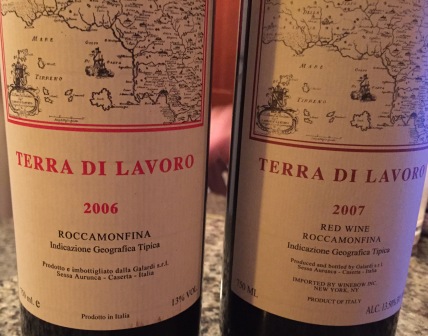 10 Italian Wines We Love
Looking for some Italian wines to try this Valentine's Day (and beyond)? Well, it just so happens that we drank a whole lot of vino while researching our recently published book, Decoding Italian Wine. Here are 10 of our favorites, ordered from least expensive to priciest. We hope you enjoy them as much as we did!
1) 2012 Masciarelli Montepulciano d'Abruzzo ($9): This one has shown up on a handful of "Best Value" lists, and with good reason. At an inviting price point under $10, you get a versatile, tasty, medium-bodied wine that can stand alone or pair nicely with a bowl of pasta. No wonder it's worked its way into my regular rotation. (Ryan)
2) 2012 Pieropan Soave ($13): Very pleasant with some nice apple and pear flavors, good balance … yep, we went to this one a lot during the summer. Another strong value for the money. (Ryan)
3) 2013 Montresor Bardolino Le Banche ($14): Great introduction to Bardolino – light and simple, fresh and fruity. A crowd pleaser at a great price. (Andrew)
4) 2012 Fontezoppa Verdicchio ($14): This wine sold me on Verdicchio when I was looking for a solid Italian white at a great price. It's a bit muted on the nose, but comes through with fresh citrus flavor and crisp acidity. An awesome summertime drink. (Andrew)
5) 2009 Recchia "Le Muraie" Valpolicella Ripasso ($19): I typically dig just about any Valpolicella wine, but this Ripasso was particularly memorable. Soft, fruity, plenty of depth … delicious. (Ryan)
6) 2012 Jermann Pinot Grigio ($20): When writing the Pinot Grigio section, I enjoyed this bottle from the Friuli-Venezia Giulia region, which changed the way I look at Pinot Grigio. Nice acidity and body with lemon, lime and citrus. Not what you'd expect when someone says, "It's a Pinot Grigio." (Andrew)
7) 2012 Terradora Greco di Tufo ($20): Spending this much on a white wine is a little unusual for me, but I gotta say it was worth every penny. Hailing from the Campania region in Southern Italy, it's a full-bodied treat with shades of fruit and honey mingling with just the right amount of acidity. (Ryan)
8) 2009 Donnachiara Taurasi ($33): I was pretty unfamiliar with Taurasi when I got a hold of this bottle but quickly discovered why some refer to Taurasi as the "Barolo of the South." Full-bodied, silky smooth and delicious. (Ryan)
9) 2007 Attilio Ghisolfi Bussia Barolo ($60): This wine was flat-out awesome. Signature Barolo – big, meaty, layered complexity, silky tannins, just drinking perfect at the time. (Andrew)
10) 2006 and 2007 Fattoria Galardi Terra di Lavoro Roccamonfina ($70): These are huge wines with notable differences between the years, which was fun to sample. Eighty percent Aglianico, a varietal we wrote about in detail and that should be on everyone's radar. Great food wine, built to last. Two beauties here.