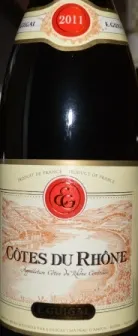 I had to check my notes on this wine to make sure I got the price right. I paid only $11.99, and for that price this is a seriously good buy. Granted I have an affinity for Rhone wines, but this is a bottle that I'm going to stock up on in a big way. Perfect on its own, or with almost any cuisine. We enjoyed it with a beef and vegetable stew and it was perfect.
The wine is comprised of 60% Syrah, 35% Grenache and 5% Mourvedre. Red fruit and a little spice on the nose, opens into a beautiful wine on the palate, tannins are soft and juicy, the flavor profile leads into a nice dry peppery Rhone finish that sticks pretty hard. If you've never tried a Cotes du Rhone wine before, this is your perfect entry point. Just let it breathe for a short time before you consume.
I'm definitely going to buy more. If you know of any other $12 bottles that can compete with this one, please let us know. This wine will go on the Top Picks list for sure.
CostcoWineBlog.com Rating: 89 Points
Costco item number: 35853
Purchased at Costco in: Atlanta, GA