I'm a huge fan of Chateauneuf-du-pape wines and year to year the Beaucastel is one of my favorite splurges. It tastes great now, plus has potential to age incredibly well.
Just last year I was visiting one of my favorite restaurants that not surprisingly also has a ridiculous (and reasonably priced) wine selection. After browsing through the thousand page book we settled on a 1998 Beaucastel Chateauneuf.
I was so curious how it would taste 20 years later and it did not disappoint. We gave it a little air in the decanter and sipped on it over the course of a long meal, enjoying layer upon layer as it opened it, full of life.
Because of the aging potential of these wines, I've put a few bottles of the more recent vintages in the cellar, including a bottle of this '14, to appreciate later down the line.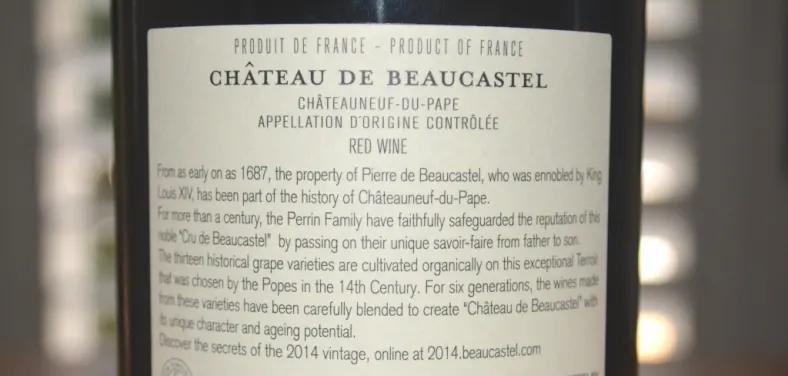 Now granted, I know this wine isn't cheap at $69.99, but compared to the price you'll find at many other outlets, including the wine warehouse across the street from my Costco, this bottle will go for closer to $100. I have seen a few places online offering it closer to Costco's price though.
But you are getting a high caliber wine for the money. The wine is medium plus in body, with earthy aromas, a little smoke and dark fruit on the nose; more licorice, and red fruit, spicy cherry in the mouth, with herbs and pepper entering the mix towards the finish.
It is a lovely wine now but will probably develop further after laying down for a few more years. Food-wise, it can go with anything. That's what I love about so many Rhone wines.
If you're looking to splurge a bit, this one offers a ton of bang for the buck and is just a joy to drink.
CostcoWineBlog.com Rating: 93 points (for now, with potential for a higher rating after the wine has time to develop further); a CostcoWineBlog.com Recommended Wine
Costco item number: 111745
Purchased at Costco in: Atlanta, GA (Kennesaw)
Alc. 14.5%
(Note: I thought this was a lot of alcohol for this wine although it's masked fairly well. I went back and looked at some older Beaucastel wines I'm storing in the cellar for comparison, and they too come in at 14.5%)