I watched The Godfather about a week ago. Being more of a wine-nerd than I am a film-nerd, I have always associated "Coppola" with wine.
I remember receiving a bottle of the "Diamond Collection" Claret as a gift from a friend about ten years ago and thinking it was something very special because of the delicate gold lace that encapsulated the bottle. I liked the juice inside as well.
These days, my attitude towards the Coppola brand of wines can best be described as "meh." I know that there's good, drinkable juice inside these bottles, but I'm not quite as enthusiastic about the wines as I am with those from smaller, less Hollywood-Mega-Famous wineries.
It's kind of like that feeling you get when you hear that a celebrity or athlete has just come out with their own private wine label. Oh, neat.
It's a good thing that there are other humans on the planet besides me, humans who do actually care about the name behind a wine label. My husband is one of these people.
He is very much interested in the Coppola line of wines, almost as much as he is about the Godfather Trilogy. The first bottle of wine that he ever brought home to me is the one that I've chosen for this review.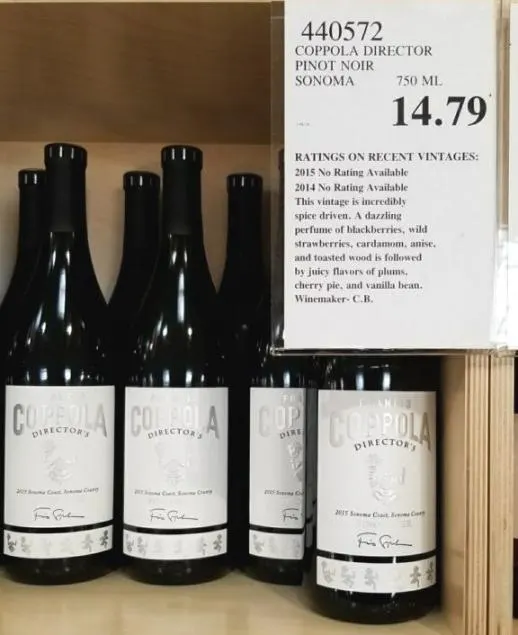 Grapes from the 2015 vintage of the Coppola "Director's" Sonoma Coast Pinot Noir are sourced from "several different Russian River Valley vineyards" according to website. Following fermentation, the wine is aged for 8 months is French and Hungarian Oak barrels, a third of which is new.
The wine pours a light ruby color with mild intensity. On the nose, there is lots of ripe red cherries and strawberry jam along with a little barnyard funk. I picked up shiitake mushrooms as well. Subtle vanilla and sweet baking spice confirm the oak influence.
The palate is dry yet abundant with red fruit flavors. Smooth tannins and pithy burnt orange highlight the clean finish.
The Coppola Director's Pinot Noir typically retails for around $17-$20. The Costco clubs that I frequent carry this wine for under $15. For solid Russian River Valley fruit juice like this, it's an offer you can't refuse.
CostcoWineBlog.com Rating: 90 Points
Purchased in Buford, GA
Costco Item Number: 440572
ABV: 13.5%