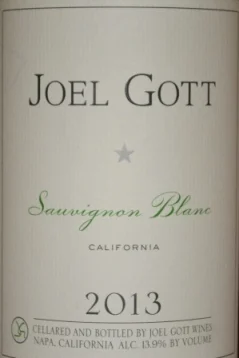 It's 92 degrees on a hot summer day here in Atlanta as I write this – the perfect time to crack a cool Sauvignon Blanc, and I thought this Joel Gott bottle for $9.99 would be a good fit. And it was.
I should be honest about the fact that I'm on a bit of an anti-Sauvignon Blanc kick at the moment. In writing our Italian wine book, and exploring different whites from the around the world, I've come to love those from Italy, Spain and France. And the prices on those bottles won't break the bank. I've just found an Albarino, or a Loire bottle or a Verdicchio to offer more flavor, more complexity and really, just provide a more interesting experience.
That said, there's a time for a California Sauvignon Blanc. It's usually a hot day, like this, after mowing the grass.
This wine is pretty clear in color, light yellow. On the nose there's hints of citrus fruit and some stoniness. In the mouth, flavors of lemon, a bit of green apple and pineapple. Finishes dry with some tart. Overall, not a bad wine at all for $10, actually surprised me.
CostcoWineBlog.com Rating: 86 Points
Costco item number: 335662
Purchased at Costco in: Atlanta, GA