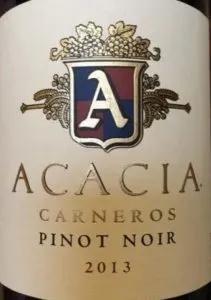 Reviewed by CostcoWineBlog.com Contributor Michael S
Ever since Sideways dissed merlot and made pinot noir the "cool red" in 2004, I've pretty much shunned pinot. (I've never handled "cool" well). Everyone once in a while I'd enjoy a Paso Robles or Oregon pinot with a meal but, generally, I found the pinot noir to range all over the map – from red-colored water to tart Zin-wannabees. Moreover, it seemed as though any pinot under $15 was going to be a crapshoot.
So I stubbornly stuck with merlot….although I tended towards the French versions. So when I meandered into my local Costco looking for some summer wines, I came across an Acacia Carneros Pinot on "sale" for $10.99. Acacia knows pinot and its A by Acacia has been a past hit at this blog. Acacia is a winery based in the Carneros region of Napa Valley, California, and respected for their Chardonnay as well as for their pioneering efforts with Pinot Noir in that region. The winery often sells it for $25, which I think is a bit high. Costco's usual price was $14.99 and generally you can find this wine on sale for $17-20 in other stores. So, I thought, why not?
I'm glad I did. From what I can tell, the winery hasn't produced much of its value-priced A by Acacia pinot in 2013. So it appears that this Acacia Carneros is its pinot value-proposition for this year. What a deal!
I tasted strawberry/cherry, some plum, spice and vanilla. It's quite smooth – very fine tannins. It made the broccoli and stewed chicken, with which I'd paired it, smile. And, frankly, for $11, if a pinot makes your food smile then you've done quite well. At Costco's sale price, this wine is worth snapping up quickly.
Rating: 91 (based upon value and taste)
Price: $10.99
Costco Item #: 58889
Purchased at Costco in: San Diego, California