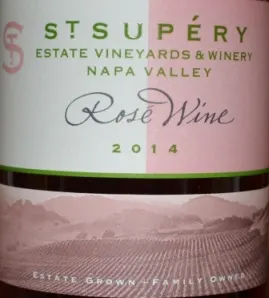 I'm a big fan of St Supéry wines so it was great to see a Rosé from them pop up at my Costco priced at $12.99. If you've ever driven through Napa, you've likely seen their property on Highway 29 in Rutherford. It's a beautiful plot of land nestled in between a bunch of top wineries like Cakebread, Nickel & Nickel and Peju.
This Rosé is from 2014, which was a mediocre growing year (I think it's the first 2014 I've reviewed so far). It's a light, crisp, easy drinking summer wine. The varietal makeup is interesting: 50% Merlot, 38% Cabernet Sauvignon, 7% Malbec, 3% Petit Verdot, 2% Cabernet Franc. Sounds like a right bank Bordeaux. But this is a much different wine.
I enjoyed it on a hot summer Atlanta day which wines like this are made for. Light aromas on the nose, not too much there, a hint of red berry fruit. In the mouth, the wine exudes nice red fruit; I got loads of cranberry with lighter amounts of strawberry and raspberry. It's nice and dry on the finish, a lingering cranberry flavor left in the mouth.
All in all, not bad. I prefer Rosé wines from France and Spain more. The $12.99 price tag isn't unreasonable for this wine at all. But I'd like to see it closer to $10 though since anything above that opens up the world of Euro Rosés.
CostcoWineBlog.com Rating: 86 Points
Costco item number: 663764