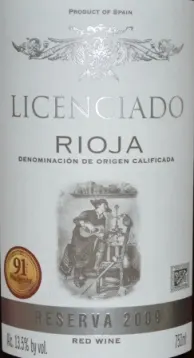 This was an interesting find, an '09 Reserva Rioja at Costco for $14.99. It intrigued me in a random sort of way so I dropped it in the cart. And it turned out to be a pretty good buy that I would recommend for fans of Spanish reds with a little age on them.
The wine pours a medium deep purple; a wonderful floral nose that just continued to open up over the several hours we enjoyed this wine; also getting violets with hints of vanilla. This is a fun wine to sniff.
In the mouth, the wine is medium to full in body, excellent berry fruit, with leather, vanilla, some light all spice flavor and a touch of anise. Finishes dry and sticky.
I thought this was a nice wine. Certainly in the wheelhouse of what you would hope for in the $15-$20 range, and since it lands in the lower end of the range, I'd say it's a good buy.
CostcoWineBlog.com Rating: 89 points
Costco item number: 533416
Purchased at Costco in: Atlanta, GA