This wine showed up in the wood bins at select Costco clubs a few weeks ago. There isn't a whole lot of this wine available on account of it being a single vineyard, smaller production offering from this winery.
Tapiz is Spanish for "tapestry," and this winery is so-named for the efforts of winemakers Fabian Valenzuela and Jean Claude Berrouet (former winemaker of Chateau Petrus) to create a "beautiful tapiz between the wine's lush fruit and its oak aging."
All of the fruit in this estate blend comes from the winery's San Pablo vineyard, which is quite large, comparatively-speaking, and sits at an altitude of around 4,600 feet, making it one of the highest vineyards in Argentina.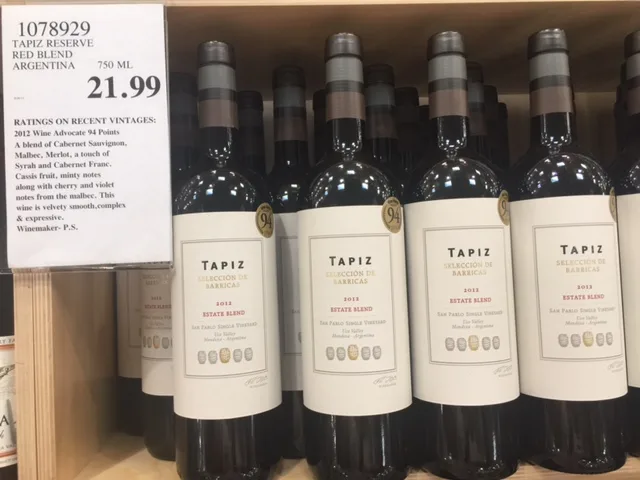 Grapes grown at an altitude such as this are often exposed to more direct sunlight, experience greater shifts in temperature throughout the day, and have great drainage. This all amounts to vines that struggle to produce a fewer number of more concentrated berries, which in turn end up making wines with excellent structure, acidity, and aging potential.
On to the juice. The 2012 Tapiz Estate Blend pours dark purple and opaque in the glass. The ripe fruit nose hits on notes of cola, licorice, blueberry, and vanilla. Full and lush on the palate, this predominantly Malbec and Cabernet blend is extracted, a bit spicy, and finishes clean.
This wine is big and juicy, and would pair beautifully with a steak. I would drink it now, but you could probably hold it for a couple of years if you wanted to see where it goes.
Wine Enthusiast gives this wine 90 Points and James Suckling gives it an impressive 94 Points. I suspect that this vintage is only available at Costco, but I could be wrong. For $22 a bottle, the price is right where it needs to be to make this another good value Costco wine.
CostcoWineBlog.com Rating: 91 Points
Costco Item Number: 1078929
Alcohol: 13.9%
Purchased in Cumming, GA