Joe Phelps' first "Insignia" was the 1974 vintage. The blend was 94% Cabernet Sauvignon from the Stags Leap District of Napa Valley since this was a particularly good year for Cabernet. Each year the blend for Insignia changes based on the winemakers' opinion of varietal expression. The 1975 vintage was predominantly Merlot, and in 1976 Cabernet once again ruled the cuvee and has ever since. The 2012 is a blend of 75% Cabernet Sauvignon, 10% Merlot, 10% Petit Verdot, 3% Malbec, and 2% Cabernet Franc.
The idea of a red Bordeaux blend in Napa Valley was, arguably, first brought to life by Mr. Phelps. Accolades on top of accolades (Wine Spectator "Wine of the Year" in 2002, 100 pt. scores from Robert Parker Jr., etc.) have made the Insignia a Napa Valley "cult wine," and help to justify the price point that usually follows a wine such as this.
But, is it worth the $190 price tag? Yes and no.
For the person who has the budget for such a wine, and who can appreciate the history and quality that goes into the bottle, sure.
For the person who drinks great wine all the time and would be upset if she spent this much money on something that didn't blow her socks off, no. I have $40 bottles in my Eurocave that I prefer to this, honestly. That being said, it is a great wine. Also, I've been told that a 2012 would show best ten years from now, so perhaps I did not give this wine the proper respect that it deserves. I guess I'm a little too impatient for that.
The wine is opaque and dark purple with very little rim variation and lots of extraction in the legs. The bouquet is intense and that of a masculin perfume with sandlewood, vanilla, and black fruits. I also picked up some mocha and sweet spice aromas. The palate is coating and juicy with gripping tannins that should soften with time. The finish is the best part of the wine, slightly bitter but lingering and creamy.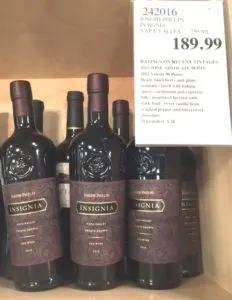 Wine Spectator gave the 2012 vintage of this wine 93 points and the critic wrote that "the drying sensation on the finish distracts from the ripe blackberry, earth, cedar, and gravel notes." Wine Enthusist gave the 2012 Insignia 95 points and wrote that "two years in French oak give it a youthful, tannic nature around smoky black cherry, burly leather and full-bodied richness and concentration." Both critics note that the wine should improve with time in the cellar.
Wine Enthusiast gives the latest release of Insignia (2013) 98 points and an Editor's Choice designation while Wine Spectator rated it 93 points. This blend is more Cab-Sauv dominant than the 2012 with 88% of the grape comprising the blend, 5% Petit Verdot, 3% Merlot, 3% Malbec, and 1% Cab Franc. When faced with the decision to purchase a 2012 or 2013 vintage, I would choose the 2013 and I would lay it down for a minimum of seven years. But you do you.
I have seen Joseph Phelps Insignia in multiple Costco clubs in Georgia for $189.99. This isn't exactly a blockbuster deal as a popular wine store down the street from my main club carries the same wine for around $10 less. I have only seen 2012s at Costco but it's likely that other vintages are in stock. I am not sure if the 2013 Insignia will arrive in my local clubs since the wine has been "deleted" with an asterisk on the product description. Wines that are supposedly deleted aren't always gone forever, but since you never know, if you are interested in a wine that has an asterisk on its sign, I recommend buying it just in case.
CostcoWineBlog.com Rating: 91 Points
Costco Item Number: 242016
ABV: 14.5 %