Echo is the second bottle from Chateau Lynch-Bages, a Pauillac property that I've always been a big fan of, particularly their estate bottles, red and white, that are absolutely spectacular.
This is a good way to get a foot in the door though for a fraction of the price of the winery's top bottles. Costco's price was $36.99 which is really outstanding for this bottle.
Searching online, I'm finding it everywhere from $45-$60. The blend is 57% Cabernet Sauvignon, 33% Merlot and 10% Cabernet Franc.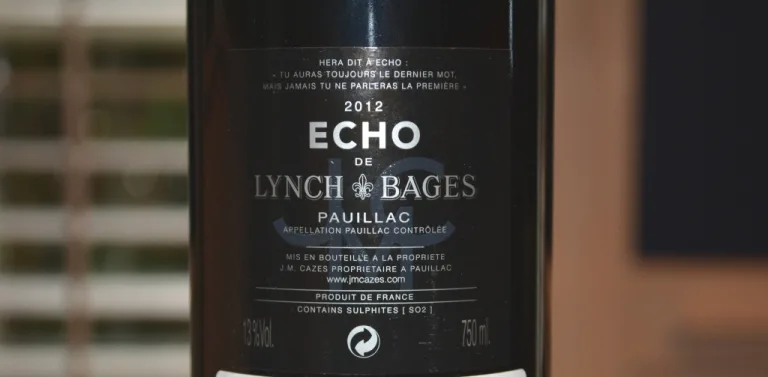 When I'm looking to save a buck on good Bordeaux, I'll frequently opt for a nearby property's first bottle instead of a well known property's second bottle because often times they can be priced pretty similar.
But with Lynch-Bages, and another good Costco pick, the Alter Ego from Chateau Palmer, you are getting access to world class winemaking operations; often times the main difference is that the second bottles use grapes from younger vines on the estate, and often contain a bit more Merlot in the blend.
I think this bottle is outstanding for the money, and reminiscent of Bordeaux that cost twice as much. The wine is stinky on the nose, signature Bordeaux barnyard smell. It's medium in body, drinking really nice right now; gentle and soft in the mouth; red fruit flavor with a hint of dark chocolate, super dry and nice oak into the finish.
For anyone wanting to explore the world of Bordeaux wines, this is a nice entry point for moving above that $20-$25 range. You really get a lot for the money, and I'd say the incremental gain in quality between an inexpensive Bordeaux and this bottle is much bigger than jumping from this wine to the estate bottles.
Highly recommended, and I'll put this bottle on our Top Picks list. I also plan to add a couple of these to the cellar to try in a few more years.
CostcoWineBlog.com Rating: 90 points
Costco item number: 1009356, $36.99
Purchased at Costco in: Atlanta, GA
Alc. 13%