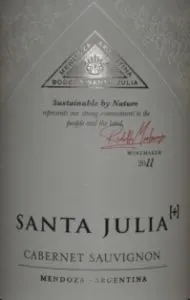 I can't think of the last time I truly enjoyed a bottle for under $7, so this one at Costco for $6.59 may be the bargain of the year. This is a nice wine for the money.
Signature Argentina in its makeup, the wine instantly reminded me of some Patagonia Cabs I've tried recently. Fresh and ripe, this wine feels surprisingly good in the mouth; more on the medium body side; flavors of dark berry, blackberry, black cherry and tobacco. Really enjoyable on the palatte. Finish is pretty quick and dry.
As I said already, this could be the bargain wine of the year. Kind of like the Etim from 2006, one of the best bargains I've found at Costco. So scoop a few of these up and enjoy.
CostcoWineBlog.com Rating: 87 Points
Costco item number: 690794